With the Christmas tree calling out for bundles of joy to be placed at its feet, Emma has been busy preparing some extra-special ideas for fabulous finishing touches – sure to make the perfect gift all the more enticing and exciting with just a few simple, decorative elements...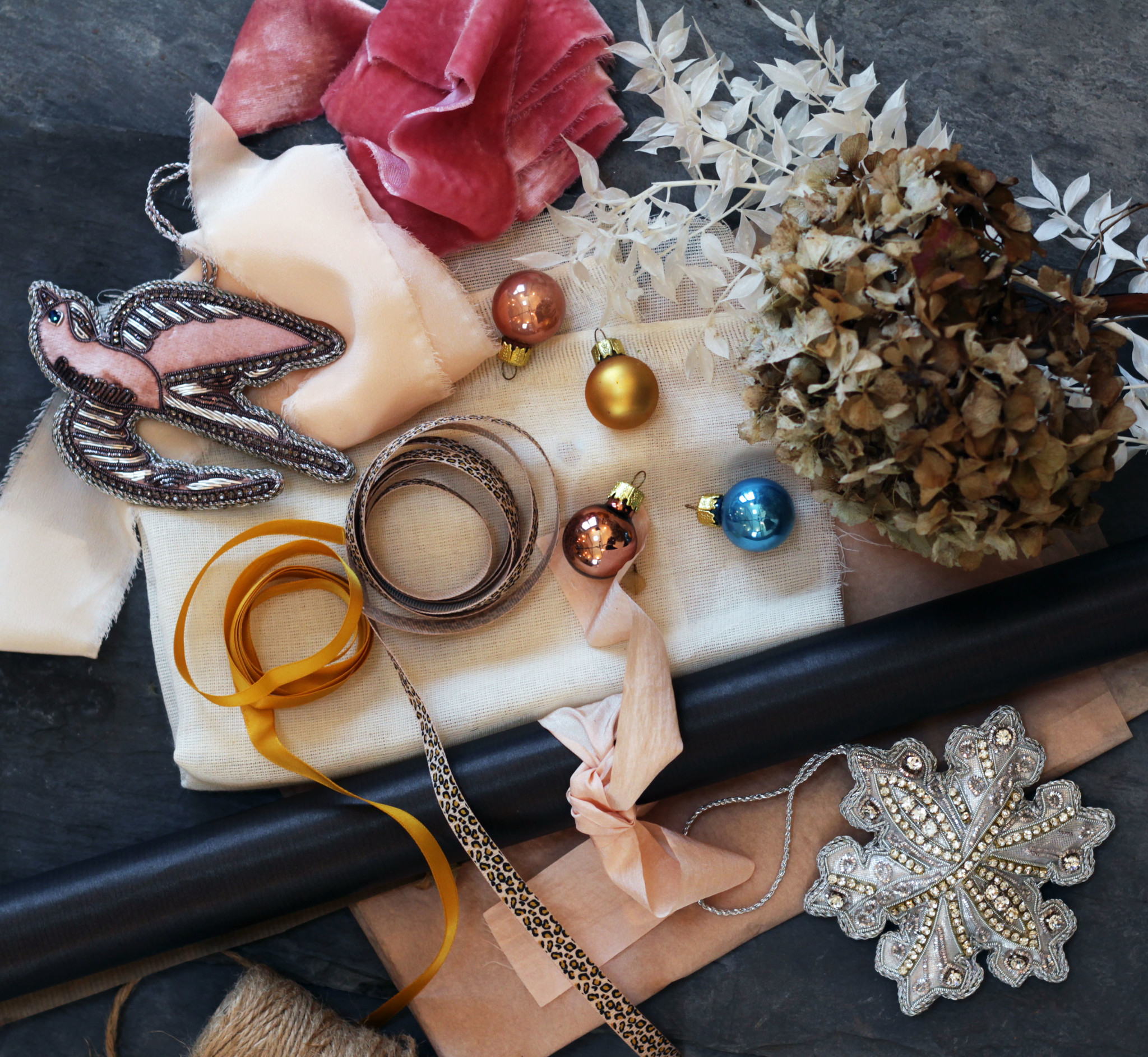 Emma: "The materials I've chosen are a collection of items I've kept from my floristry days. Scraps of fabrics, used tissue paper and brown craft paper are all easily recycled from presents of the past. I have a soft spot for ribbons and have collected many over the years, and haberdasheries (though, sadly, few and far between these days) often have bin-ends, which are great for beautiful but budget-friendly off-cuts."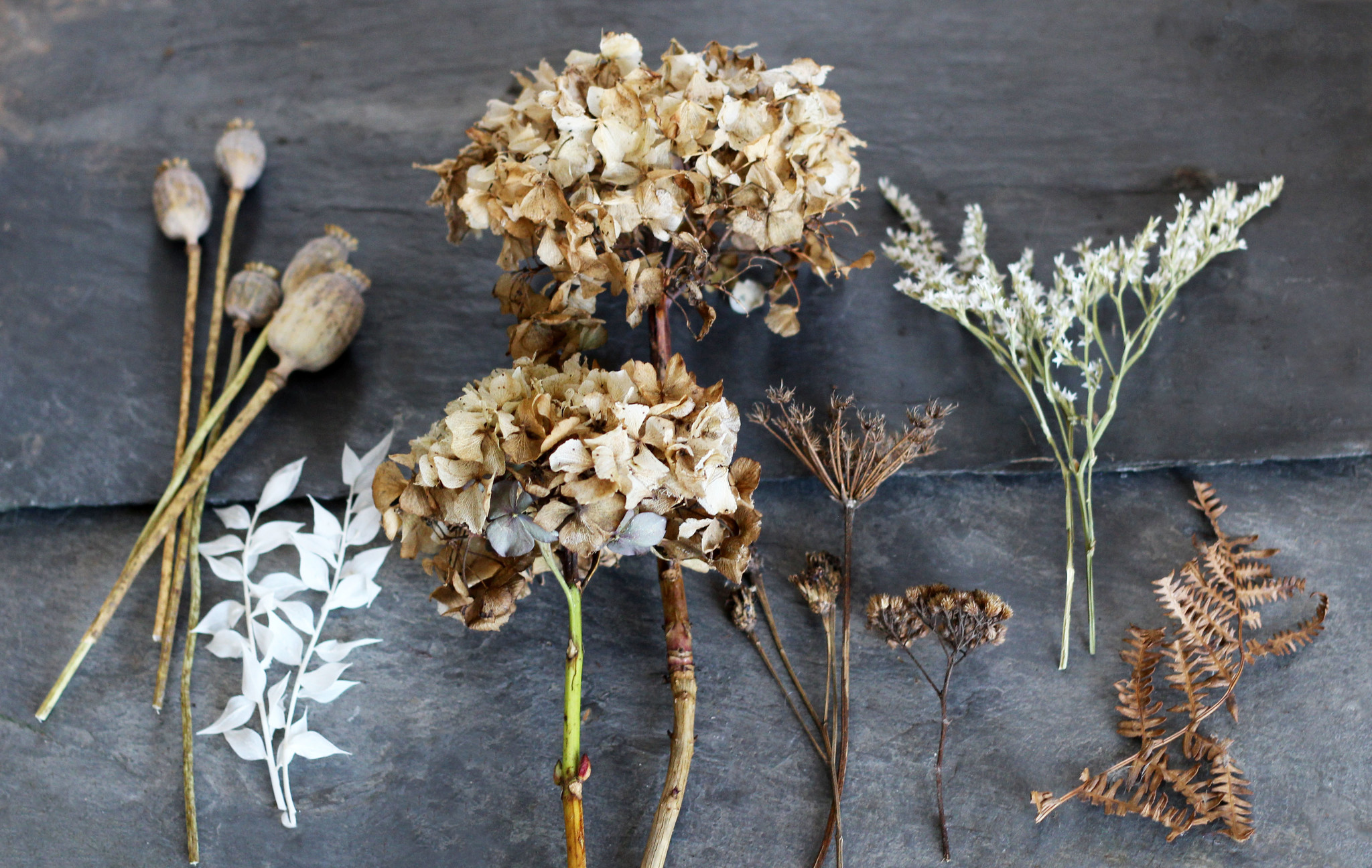 "This year I've chosen to use natural and easy-to-source finishing touches; it's a theme that you'll see throughout our stores this year, and it's naturally trickled into table centrepieces and mantelpiece arrangements for my own home. I've got some bits and pieces left over from the garden and recent wreath making-activities, plus there are plenty of fallen goodies to be picked up on local walks. Dried natural materials will last all year long, so you don't need to worry about them wilting before the culmination of the festive season! What's more, everything is easily to-hand in the outside environment, a very cost effective idea too. A gorgeous outcome on a shoe-string!"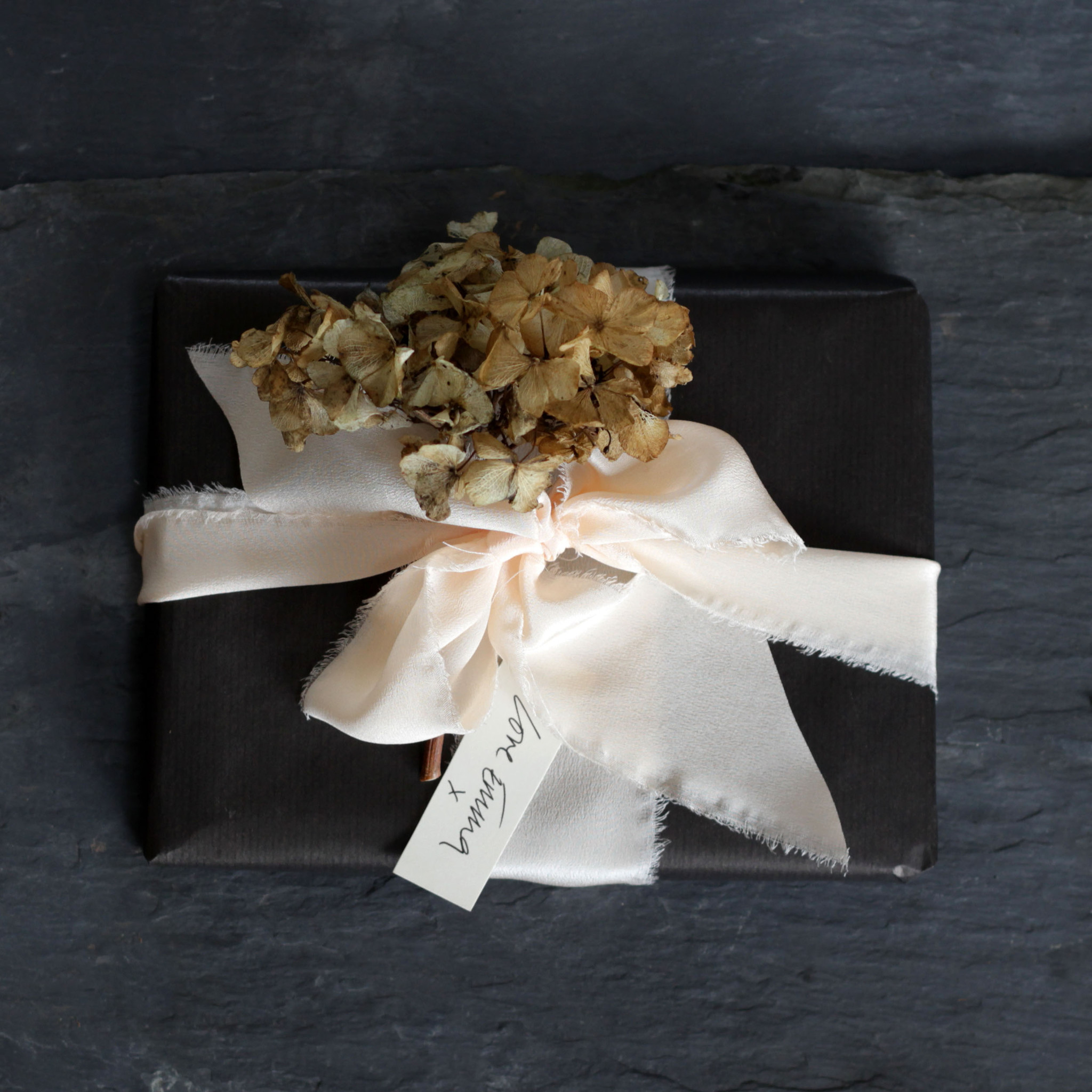 Parcel 1
"This present is wrapped using Kraft paper, leftover from a wrap of poppy-head stems that were delivered to our Totnes stores recently, and the hydrangeas are taken from my garden. I just love the look of the burnt gold petals with the nude pink of the soft silky ribbon; it's a real match made in heaven."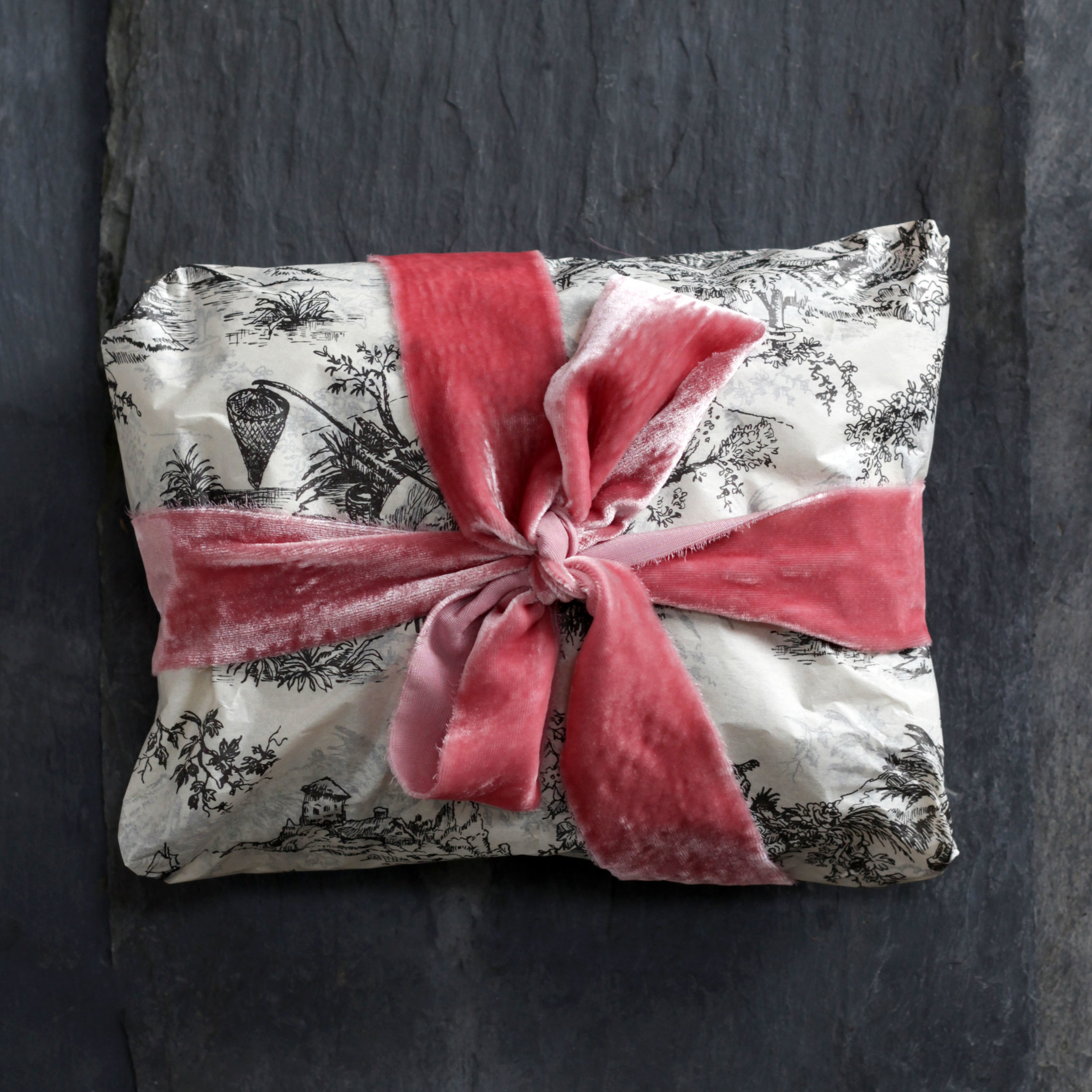 Parcel 2
"For this look, I've used leftover Toile tissue paper, brought to life with a floppy but divine velvet ribbon. The slightly textured paper has a vintage feel and I love the addition of the pop of pink. You don't need to stick with green and red at Christmas... As long as you have a consistent thread throughout your decoration, go with whatever feels good!"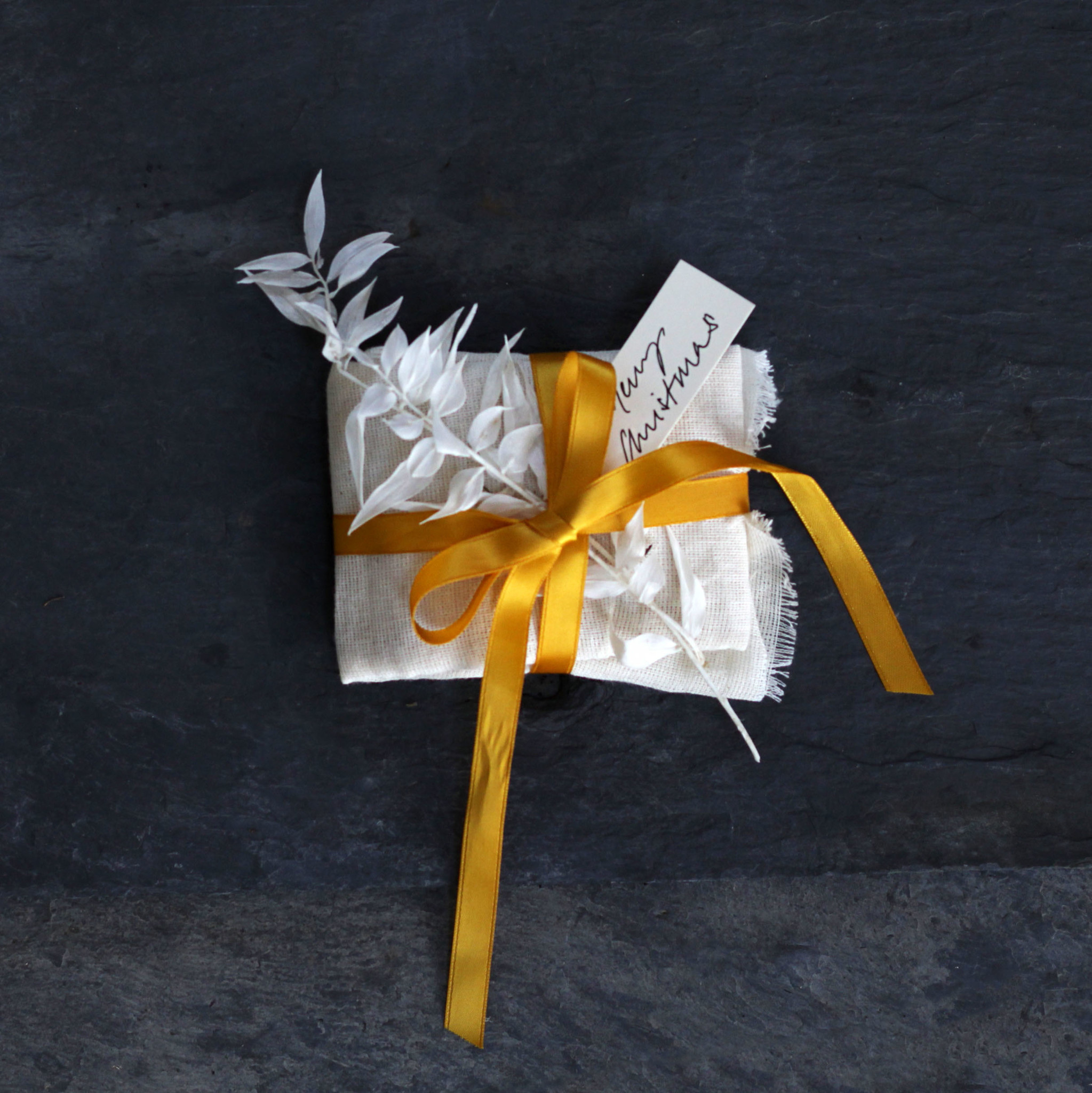 Parcel 3
"Here, I've wrapped a gorgeous pair of crystal earrings in tissue paper before tying it up in a light piece of muslin, which is an off-cut (cleaned, of course!) from a yummy steamed pudding. Not only will this keep the gift safe, it'll add the luxury of layers for my recipient to unwrap. I've kept the foliage within the same tone as the fabric wrap, which keeps the overall look really sophisticated, but added a bright burst of golden ribbon for contrast. The handwritten card is cut from one of last year's Christmas cards, simply threaded through the ribbon; there's no need for sticky tape here."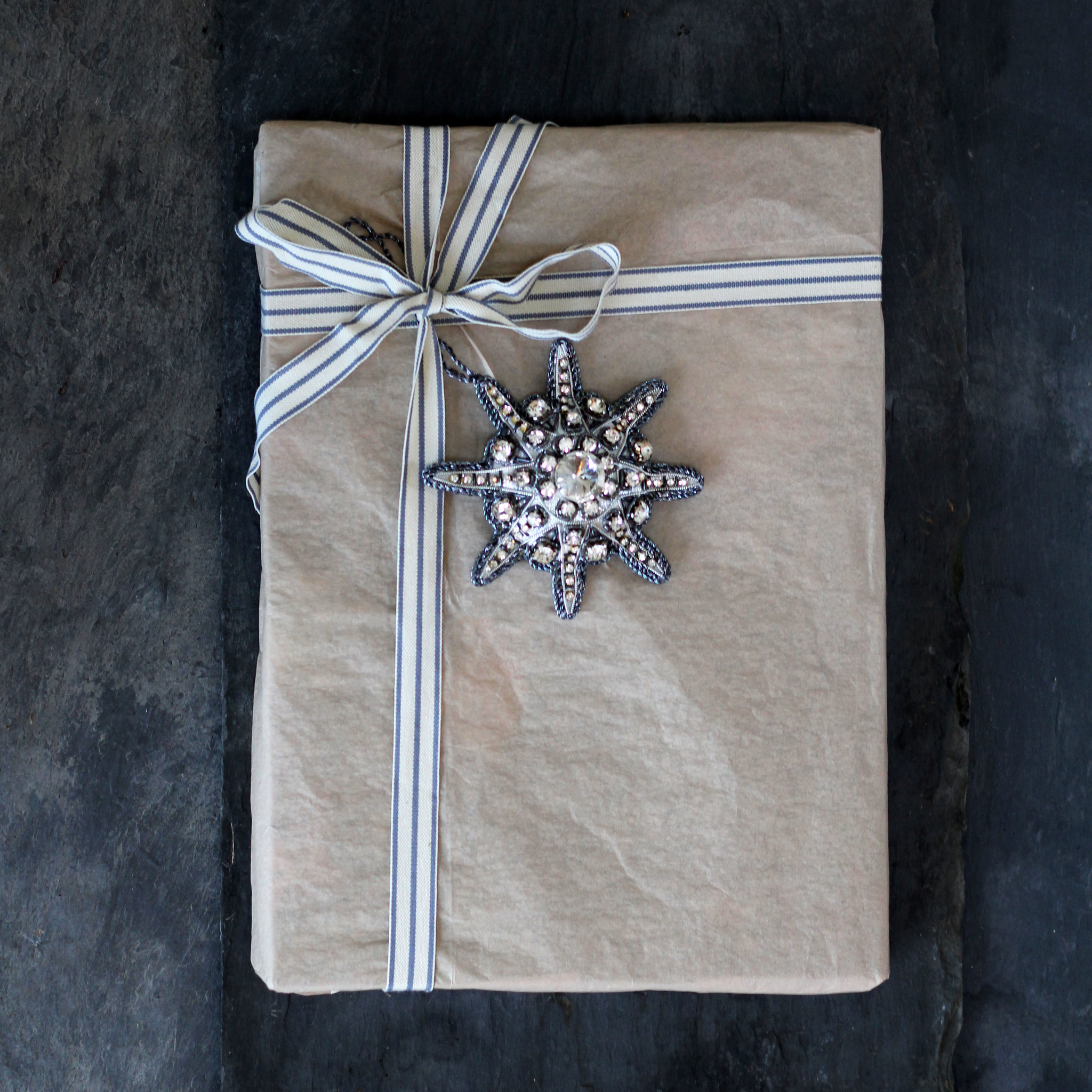 Parcel 4
"The softness of used tissue paper creates a fabric-like feel here – but be a little careful when handing it, as it can become extremely delicate once used for the first time. I've finished the look with an off-cut of cotton ribbon and added a sparkling handmade Christmas decoration to make the whole present really opulent, and help it stand out. You know its a special gift when it features sparkles!"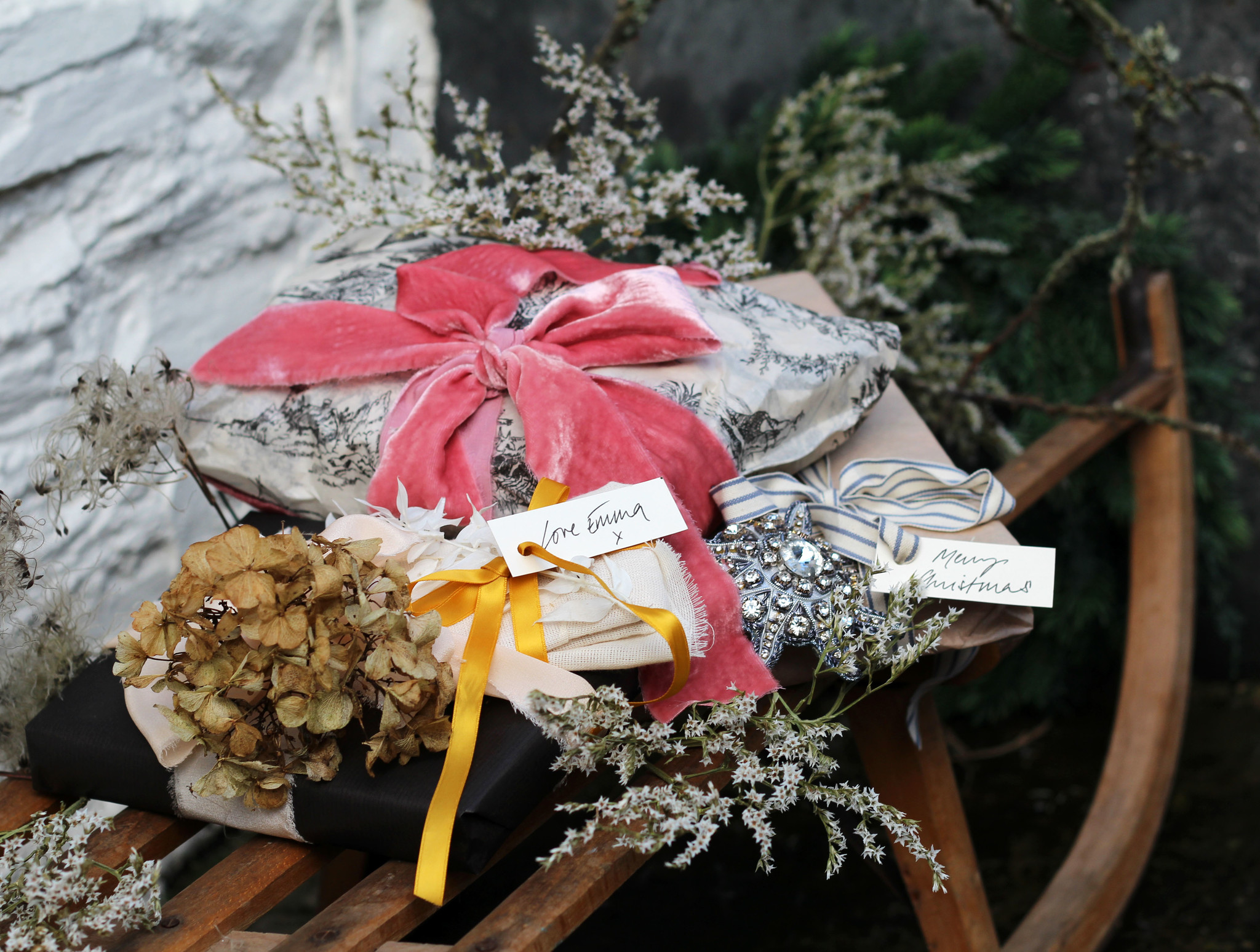 "All of these gorgeous wrapping ideas can be mixed and matched depending on the materials, fabrics and ribbons that you have to hand. Don't worry about being too precise! A bit of variety and personality will make for the most beautiful homemade Christmas, and half of the joy is in having a quiet moment to yourself to enjoy getting creative. Whatever you're wrapping – whether a beautiful pair of crystal earrings or a homemade jar of chutney – there's no doubt that an extra bit of love and care in the wrapping always makes the whole experience that little bit more special for the lucky recipient. '
Featuring: Handcrafted Crystal Starburst Decoration, Handcrafted Velvet Swallow Decoration