"Sequins are for life – not just for Christmas", says Emma, a self-confessed sucker for anything that sparkles and shines. "Even the tiniest accent of something sparkly can brighten your complexion and create a warm, summery radiance."
"Here, I'm sharing five timeless, budget-friendly pieces that are fun and easy to wear, and will make you feel a million dollars, whether you're popping out to the shops or getting all dressed up."
(Not that those two things need be mutually exclusive, of course...)
--


1. Full-on fabulousness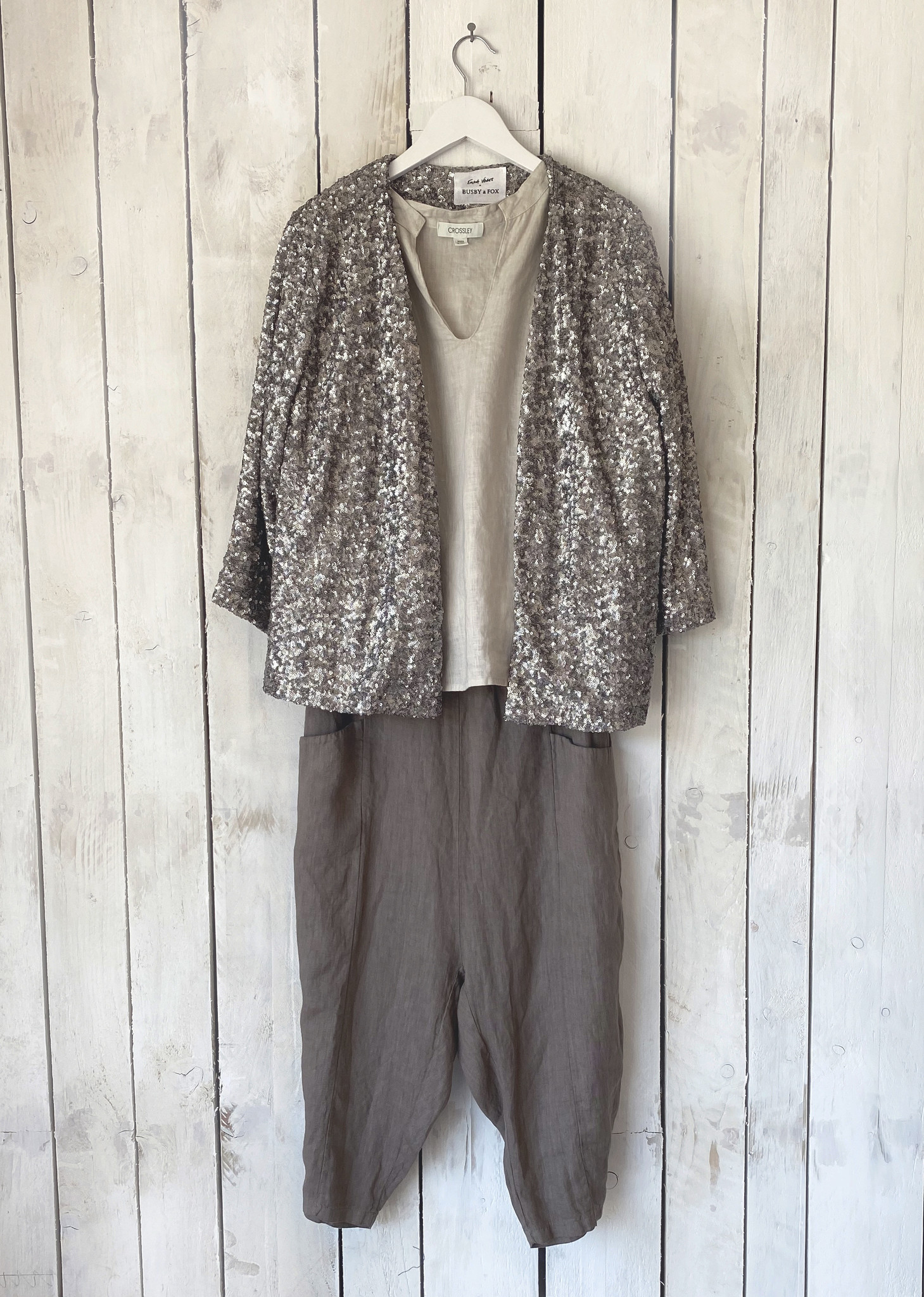 Sanne Sequin Jacket, £135. Worn with Lendl Linen Top, £98 and Bellezza Linen Trousers, £98

"There's no outfit that won't look a little bit – actually, a lot – more fantastic underneath this silver sequin jacket."
"It's one of the first pieces from my own collection, and it's inspired by an old favourite piece in my wardrobe. I always, always received compliments whenever I wore it, so recreating it for other people to wear and enjoy was a no-brainer. It's one of those drop-dead-gorgeous pieces that your friends will be asking about for years to come."
"The loose body and 3/4 sleeves lend a modern ease and informality, meaning it'll look as amazing with jeans and a t-shirt as with a smart evening dress. I've even worn mine to the beach!"
2. A light touch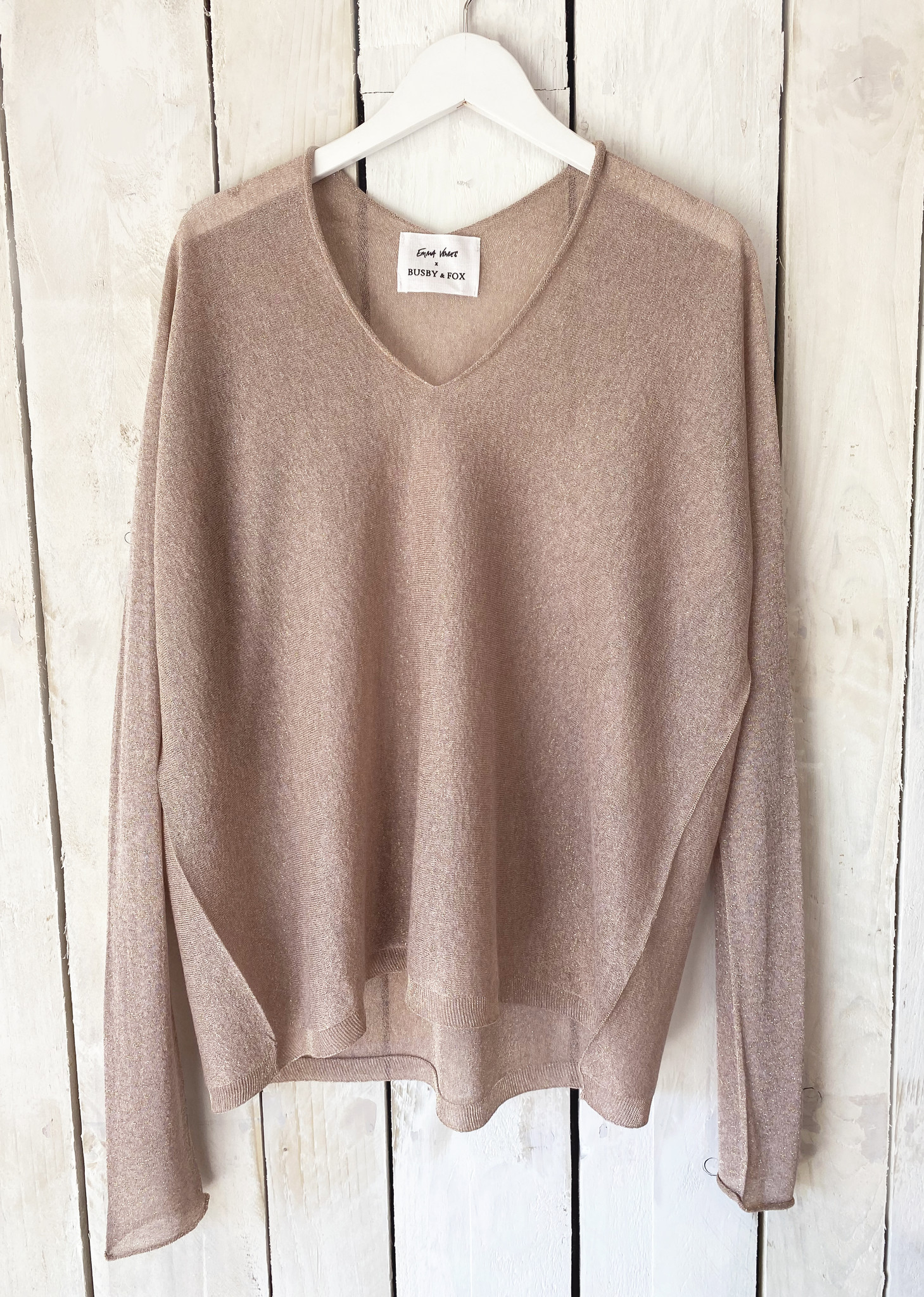 "This is another piece from the 'Emma Vowles' collection of summer layering pieces. I wanted to create something a little bit opulent but light and easy to wear – something that can be worn over t-shirts, vests or even swimsuits without becoming too hot. This gold-flecked, dusky pink yarn immediately caught my eye; it's light as a feather and has a slight stretch, which makes it feel comfortable and luxurious."
"The resulting piece has a lovely cocoon-shaped body and fitted sleeves, which are super flattering, and the rolled edges on the neck and cuffs give it that relaxed edginess that I always love. It's just a really pretty, easy thing. I couldn't be happier with it."
3. Not just a necklace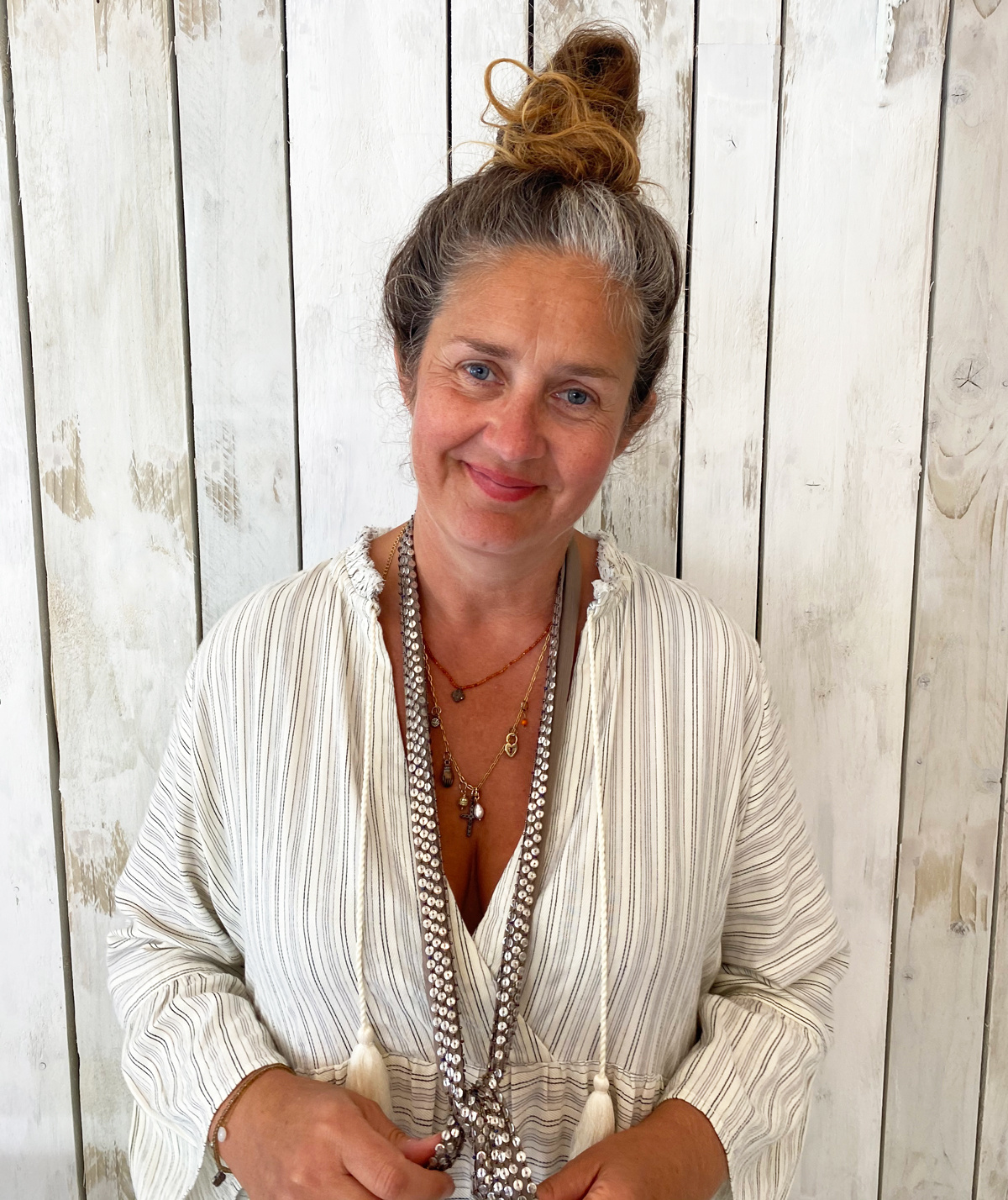 Esther Sequin Neck Tie, £48 worn with Luce Striped Tiered Dress, £135

"If you haven't tried a neck tie, trust me – they're a game-changer. They're great for for wearing with necklines that don't lend themselves to a 'normal' necklace, and you can also layer them up with other chains and beads – whatever you have to hand – and create a really eclectic look that's totally unique to you. I love wearing mine with layered pieces from my charm collection."
"The sequins on the Esther Neck Tie are such a pretty colour – there's something really vintage about the duskiness of the silver – and they're hand-stitched onto delicate chiffon. It's so light, it's easy to forget you're even wearing it."
4. Feet first

Cheri Slides, £35. Also available in black and silver.

"I've been wearing these Ilse Jacobsen slides non-stop for the past couple of weeks. They're great for my morning dip down at the beach, but smart enough that I can keep them on for wherever I'm headed next."
"Because they're made from rubber, they're waterproof, easy to clean and really light too – great if you need something to pop into your bag. The textured footbed has a lovely massaging effect, so not only are they pretty and super practical but they'll save you a trip to the spa, too!"
5. Magpie magic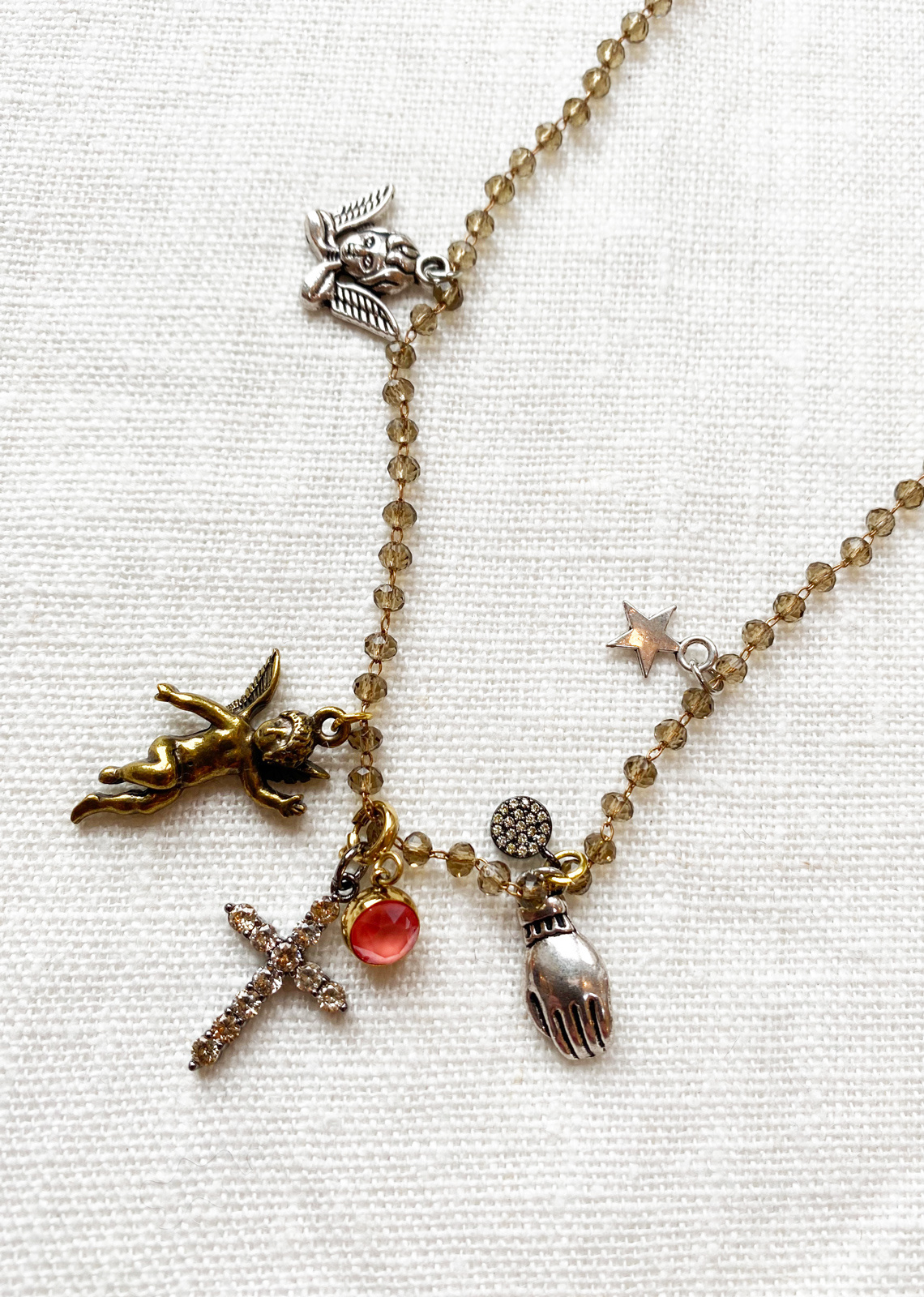 Sofia Beaded Charm Necklace, £74

"If, like me, you're a bit of a magpie for anything sparkly then you'll understand why I'm a little bit obsessed with my latest project, designing and making antique-inspired charm jewellery. A lot of the collection is set on gold-plated or silver-plated chains but the piece I've chosen here offers an interesting alternative; the taupe beaded chain is strung in crystals, which lets the sparkling charms do all the talking."
"This piece is inspired by classical religious icons; I particularly love the gold-toned flying cherub, who looks like he's off to cause mischief somewhere in the heavens. I chose the coral-coloured Swarovski crystal (which itself is gold-plated) for the vibrant, summery pop of colour that it adds. And because this is a lovely long piece, it's perfect for layering up with other styles, whether from my charm collection or pieces that you have in your own jewellery box. You could even add your own vintage charms and create a piece that's 100% uniquely yours."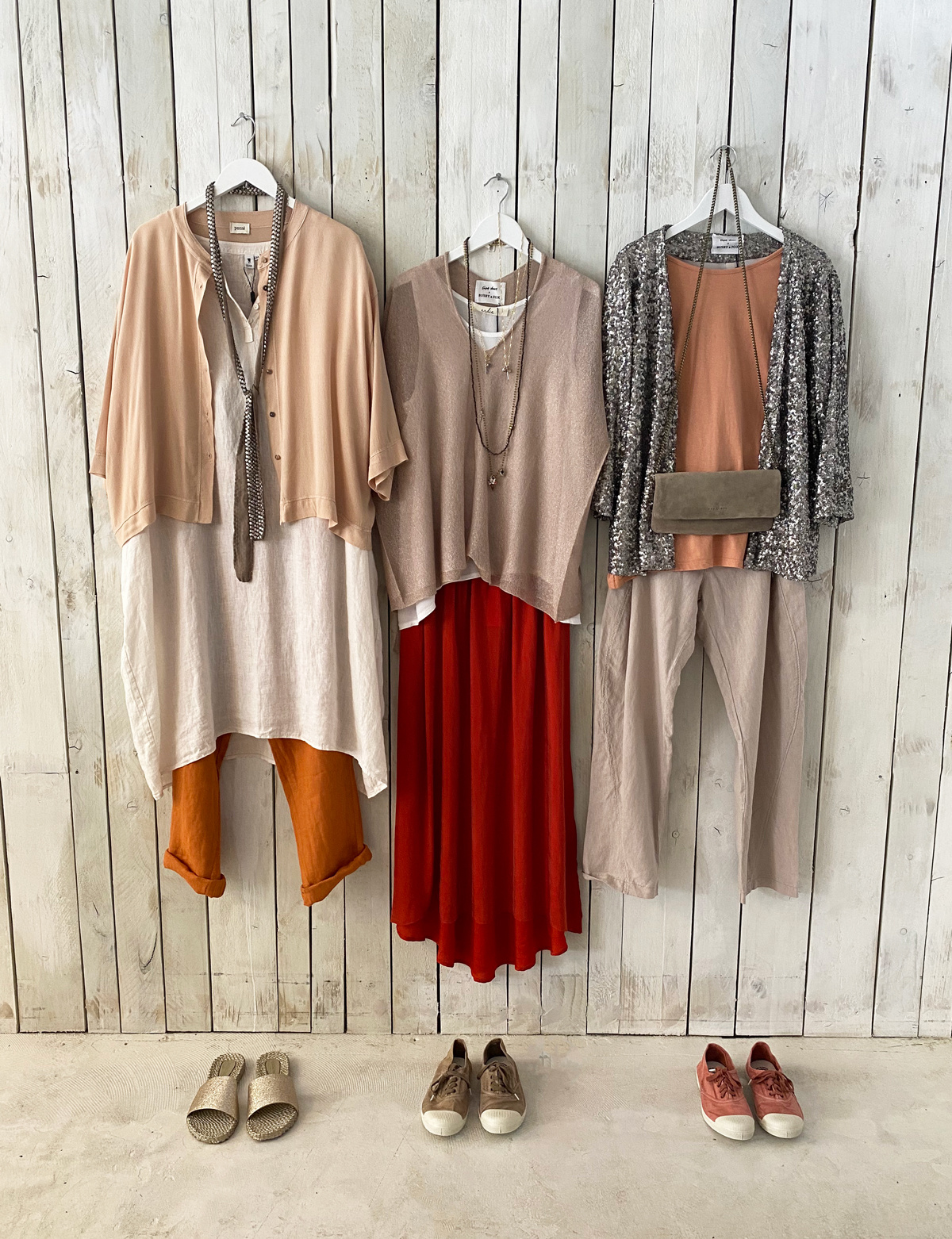 Pictured above: 
Left Milton Boxy Shirt, Anouk Oversized Linen Dress, Esther Neck Tie, Abriana Straight Linen Trousers, Cheri Slides
Middle Ren Sparkle Knit Sweater, Newlyn Fluid Vest, Sofia Beaded Charm Necklace, Nono Skirt, Enzimatico Organic Cotton Pumps
Right Sanne Sequin Jacket, Agata Short Sleeve T-Shirt, Elettra Tapered Linen Trousers, Enzimatico Organic Cotton Pumps