Jan is wearing our AW19 Cinzia Trousers, Boo Sweater, with B&F boots from a previous season, and her own t-shirt and jewellery.
How did you discover Busby & Fox?
J:  I must've just popped into the shop one day and started talking to people – and looking at the pieces, and trying things on, and buying things, of course. And on and on it went – I kept going back. I got to know people more – the staff, especially – and my relationship with Busby & Fox has grown from there. It feels like coming home, to be honest. I love to watch the team grow. I'm very interested in learning. I've interfered as much as I can get away with…!
Can you tell us a little more about yourself?
J: I'm seventy-four! I still have an interest in clothes, particularly how older women dress themselves. I worked in the City of London with very senior people, and I learned a lot by looking at how the women dressed. I'd take them shopping, and saw how difficult it was for some of them to see themselves as beautiful. I find it very easy – I can always see beauty in people.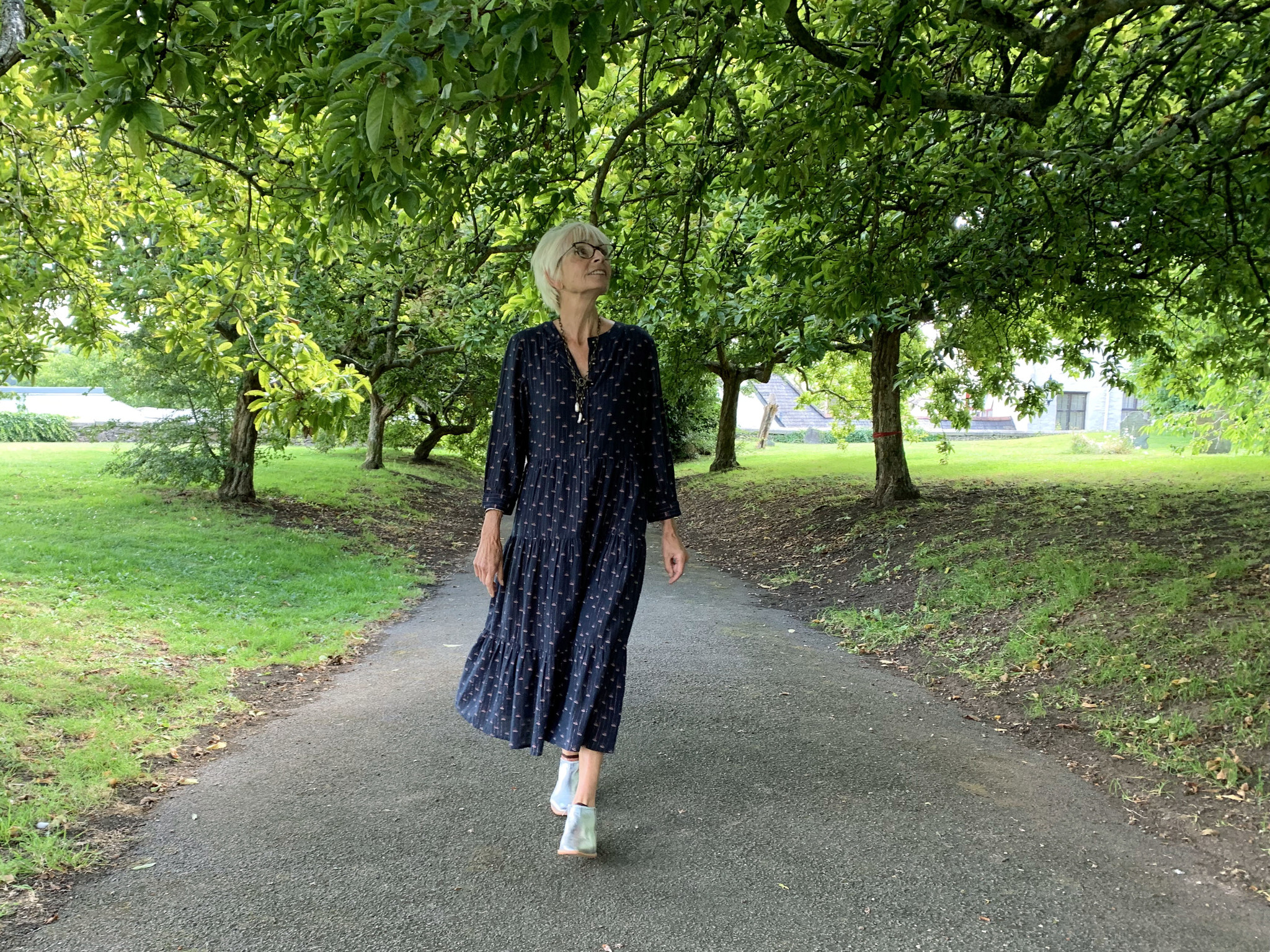 Jan is wearing our AW19 Olivette Dress with B&F boots from a previous season, and her own jewellery.

You're now enjoying retirement in Totnes, which is where we are today. How are you finding it?
J: I don't actually feel retired; the only difference is the money I earn. I love making clothes, so it's most unusual for me to buy clothes and not alter them in some way – though I have to say, I don't tend to alter pieces that I buy from Busby & Fox thanks to the range of sizes. It's miraculous to find an extra-small! But yes, I like retirement very much. I'm asked to do a lot of things and I've made so many friends - pleasures I didn't have so often when I was working.
And do you travel much now? You've mentioned you used to work in London and loved the busy lifestyle. 
J: No, I don't travel so much these days. But I've been to most countries – sometimes for pleasure, sometimes for work.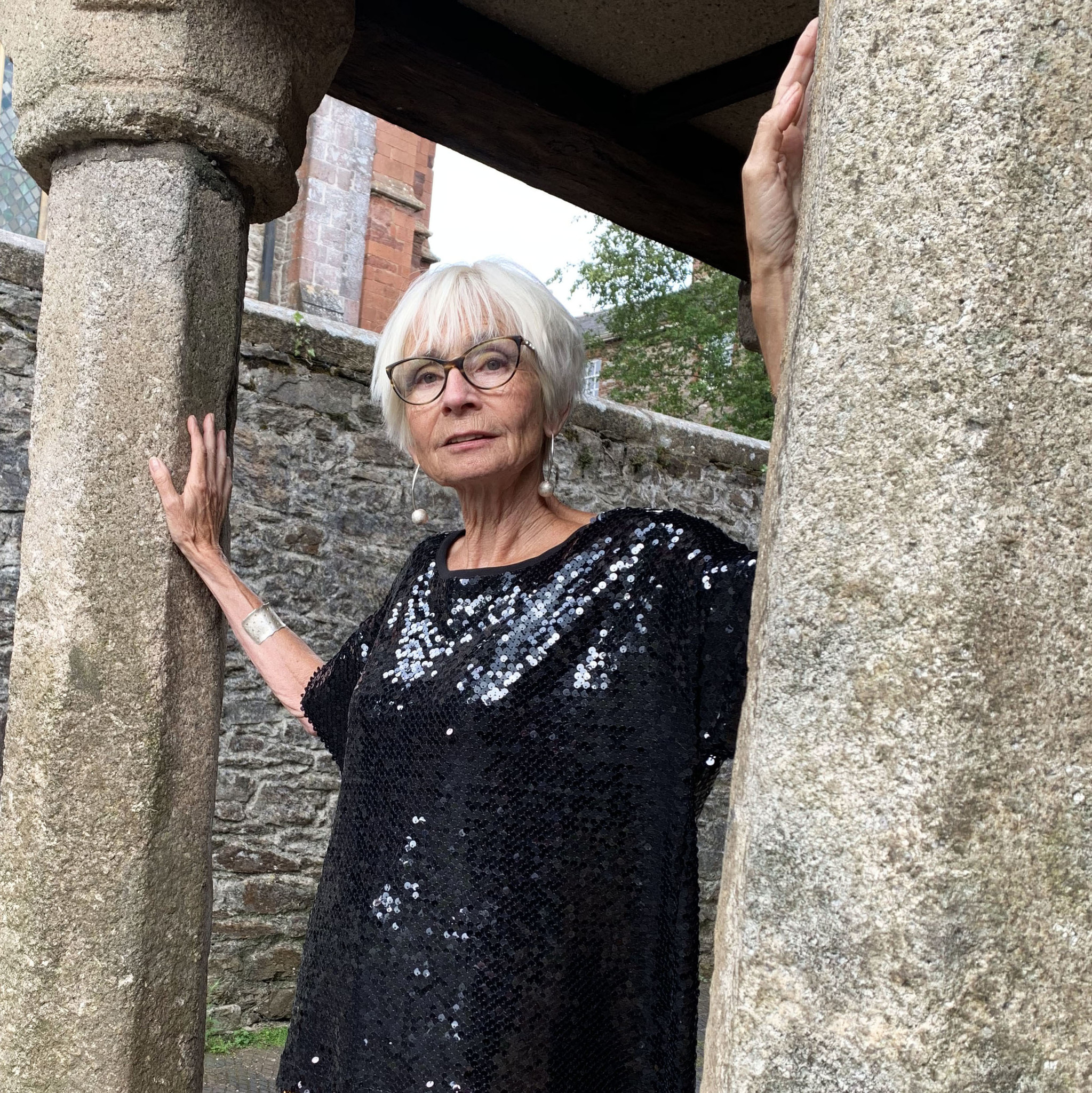 Jan is wearing our AW19 Cosma Sequin Top with her own jewellery.
When you get dressed each day, do you put your outfit together?
 J: At home, my clothes hang from the ceilings of every room! It's a very old building and I couldn't fit any wardrobes or big cupboards. So, I look up and pick out something that I haven't worn for a while. Sometimes I choose for the weather – I feel the cold a lot, so I'm quite good at layering. I think I'm also very good at colour, and how colours might go together, so that will often be my starting point.
So you've mentioned your love of your clothes; do you have a cherished possession?
J: I do have a lot of things – many more than I need. It's sometimes a bit of an embarrassment, but I like to give some away to friends. One favourite is a Persian outfit that has a very long skirt and various tunics that go over the top; I love romantic, flowing clothes. But I also like 'nasty boy' clothes… pieces that are more androgynous, a bit of 'bad Jan'! It can be frightening exploring a new style but you absolutely have to. I've done lots of things that frighten me. I climbed in the Himalayas, when my husband (at the time) pulled out of a rugby trip due to vertigo. His friends on the team thought he was joking when he announced, "I won't be able to come with you but Jan is coming instead!". I did go, and it was one of the most terrifying, amazing experiences I've ever had.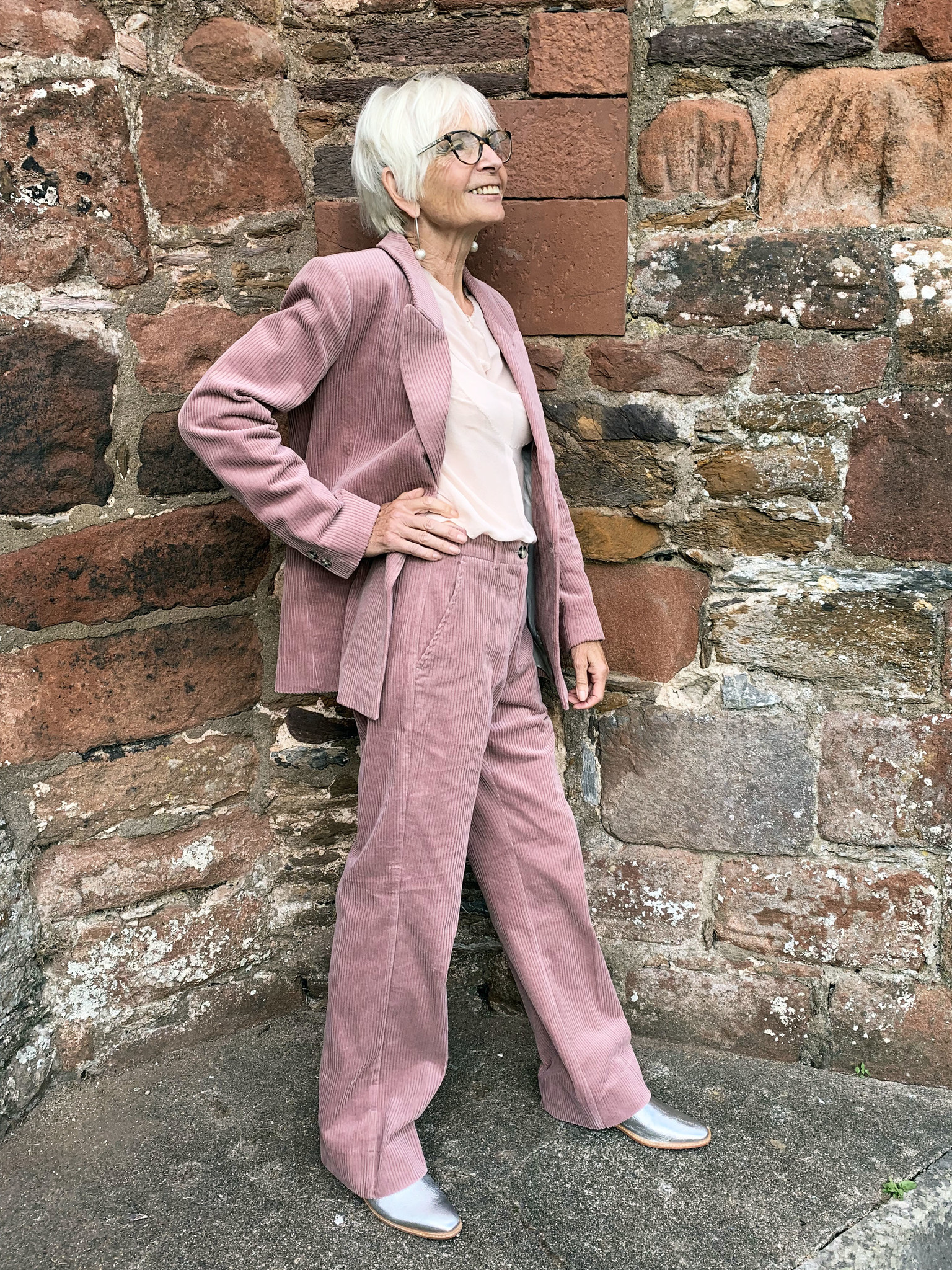 Jan is wearing our AW19 Donella Blazer and Donna Trouser (store exclusives), with B&F boots from a previous season, and her own jewellery.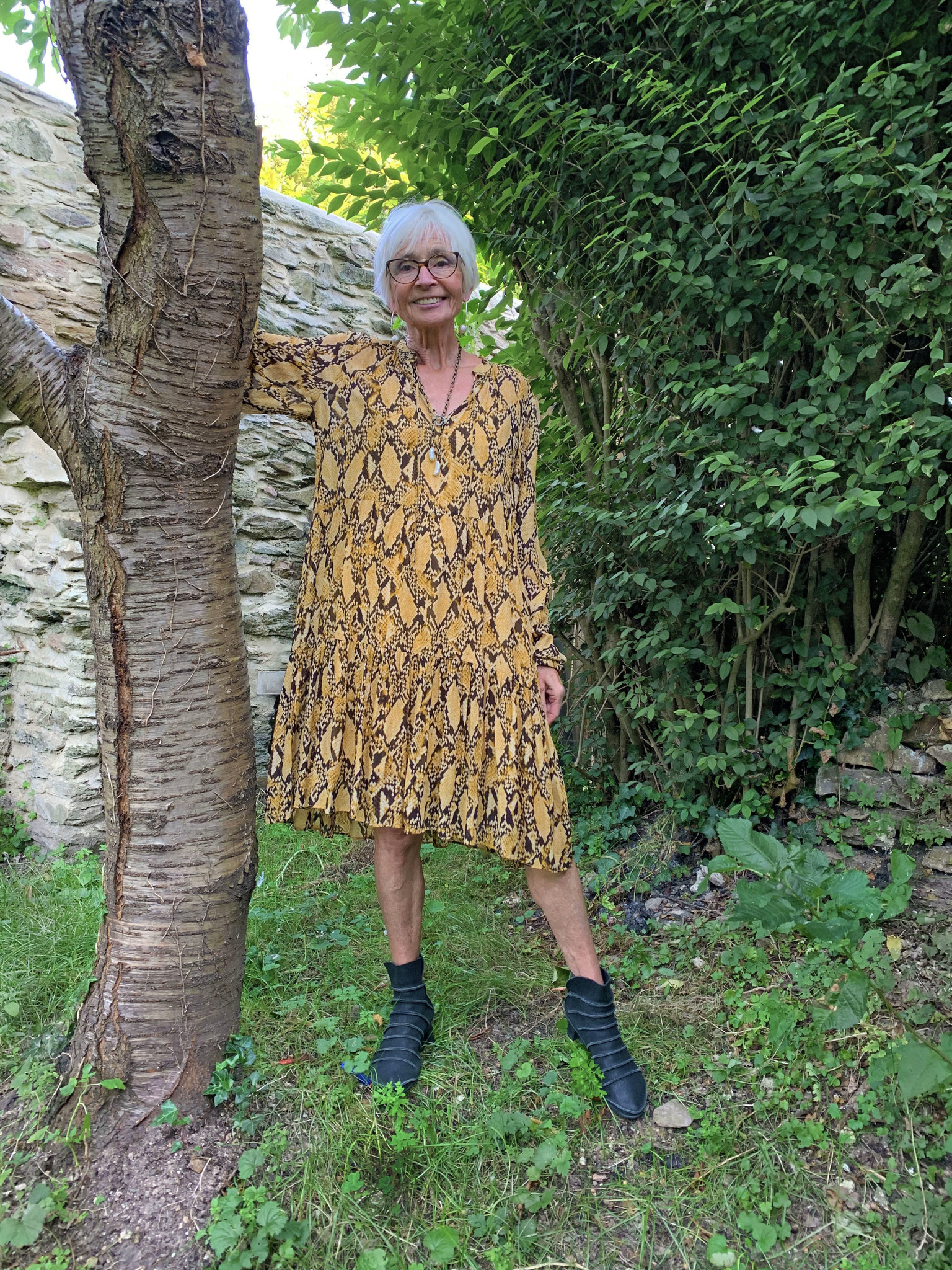 Jan wears our AW19 Ellen dress (store exclusive) with her own boots and jewellery.

At the age of seventy-four, what do you think when you look in the mirror now?  
J: Oh, I think some funny things! One of them is: "Here you are, world, this is for you!" I dress for myself but for other people too. When I chat to anyone who wonders what my clothes would look like on them, I steer them in the direction of Busby & Fox!
To see more of Jan's style, follow our Instagram @busbyandfox