With the inevitable whirl of Christmas beginning to pick up speed, and the gazillion-and-one things that we all hope to tick off our to-do lists over the next 28 days*, there's one VERY important job that we're here to help tackle with oodles of ease, honest advice and frothy coffee included: your ticks-all-the-boxes Christmas outfit.
We tagged along as Emma helped two of her sea-swimming group buddies pick out a few pretty but practical pieces to carry them through every festive eventuality, from office drinks and school performances to the big day itself.
*Yes, it really is that soon.
Left to right: Sue, Mel and Emma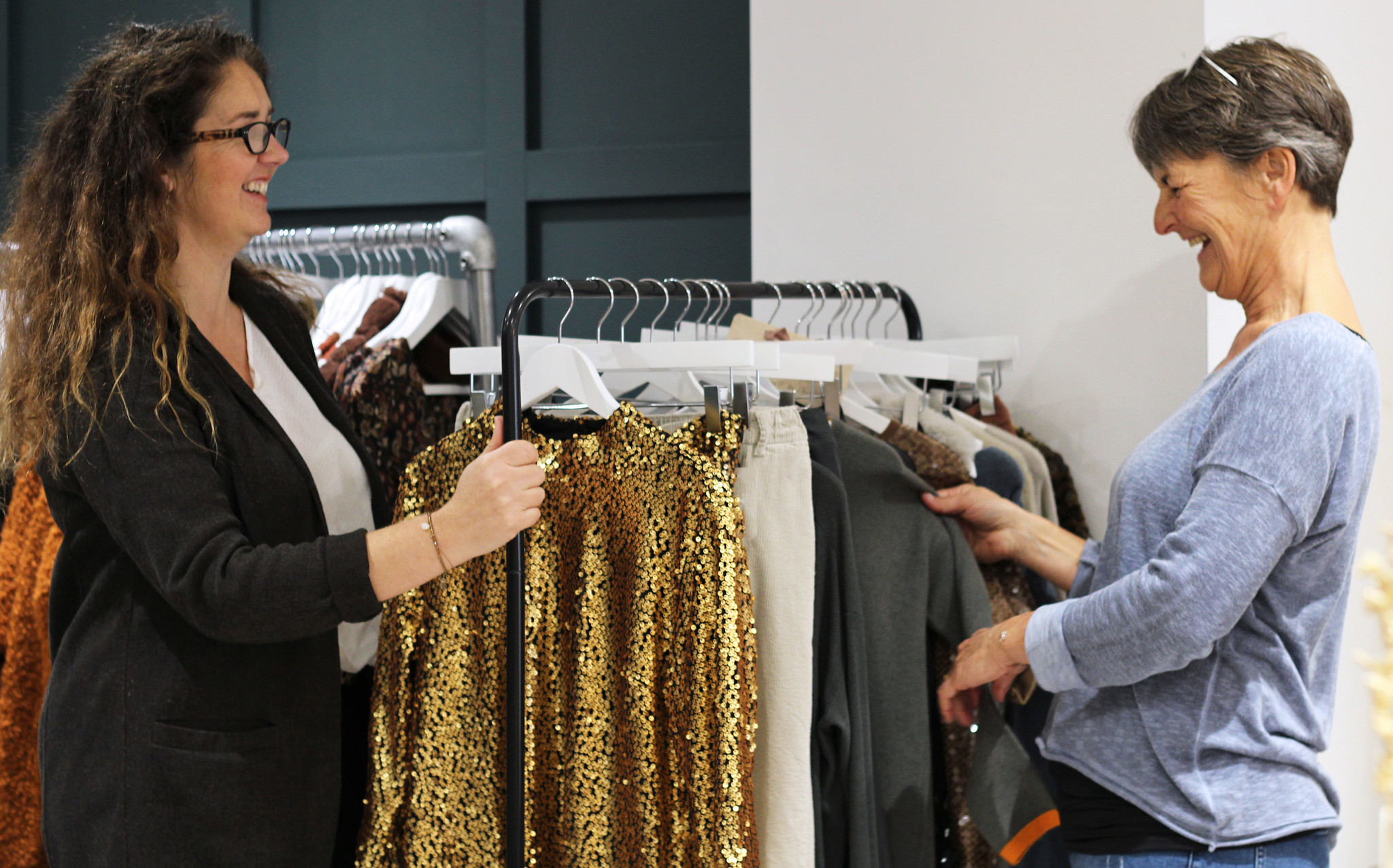 Sue according to Sue...
"I'm not quite sure how it happened, but I'm 59 years old. I've lived all over the UK but moved to Devon to raise my two children with my husband, Phil. During my 25-year career in HR, I've worked for big corporates and (more recently) for myself, so my dressing habits have had to adapt accordingly. Now, when I'm not working, my time is spent walking my boisterous Labrador puppy, swimming in the sea, and looking after my family and our home. The Devon chapter of my life is the one I've loved the most. 
I don't have an extensive wardrobe but I do enjoy good quality, well-styled pieces that require zero fussing. This Christmas, I'd like to have a couple of go-anywhere separates – things that are soft and warm, and simply look GOOD. Saying that, I've a bit of a thing for gold sequins..."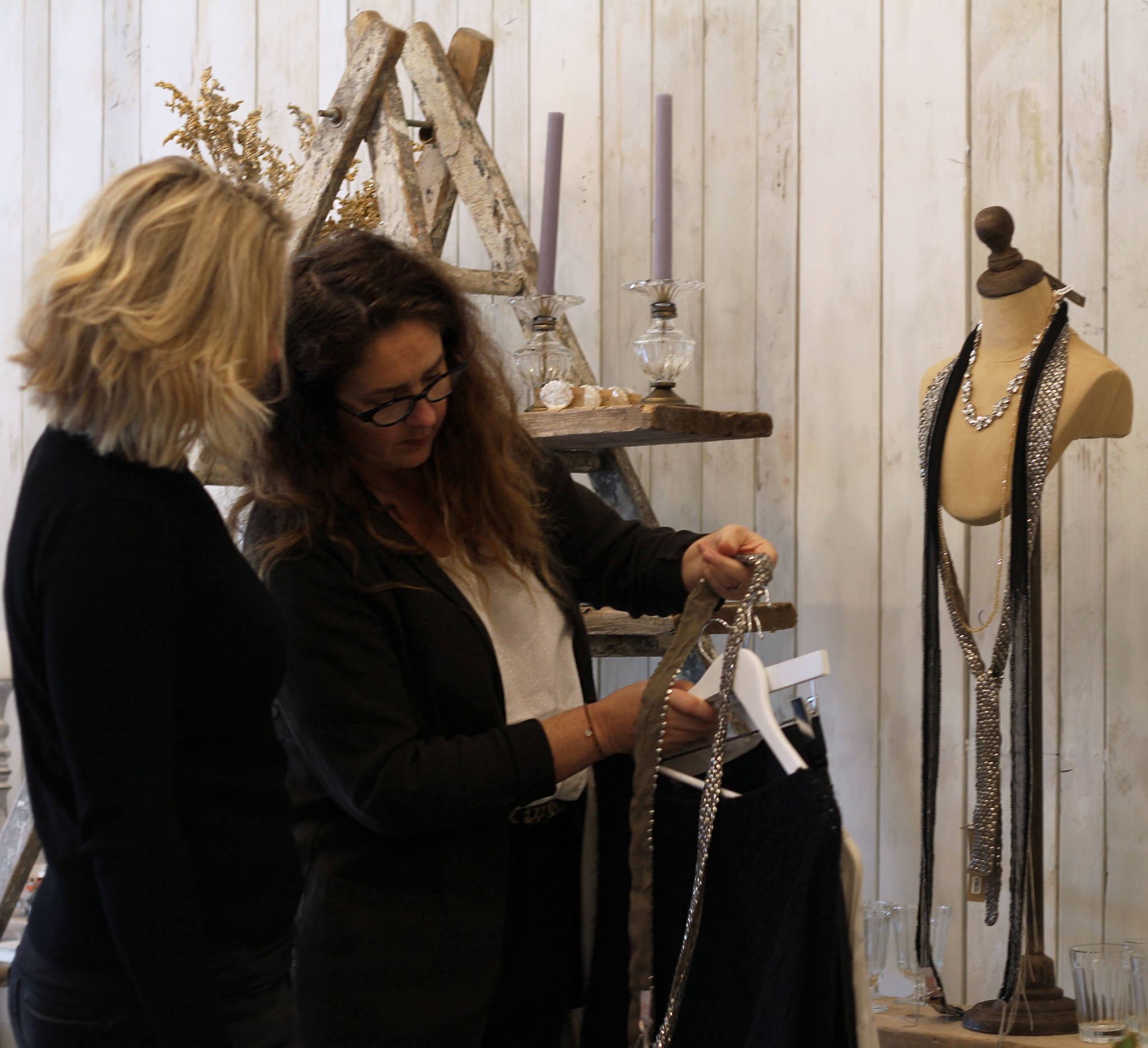 Mel according to Mel...
"Devon has always been a part of my life – I spent many a summer holiday here before my family made the permanent move from Belgium almost 30 years ago. London was my stomping ground for a while, when I was working in TV, but I returned to these shores to raise my son, Jake (who's now, unbelievably, 18 years old!). I recently got married and am loving everything that life in Torcross (near Kingsbridge) brings with it, including the big blue sea. I'm part of a wonderful sisterhood called The Torcross Mermaids and Shiverers (Sue and Emma are, too) and we swim as often as we can, wearing as little as we can, and for as long as the weather – and water temperature – permits. 
When it comes to style, I'm pretty relaxed. I want to be current and feel comfortable, and not worry about being 'on trend'."

LOOK ONE: SOLID FOUNDATIONS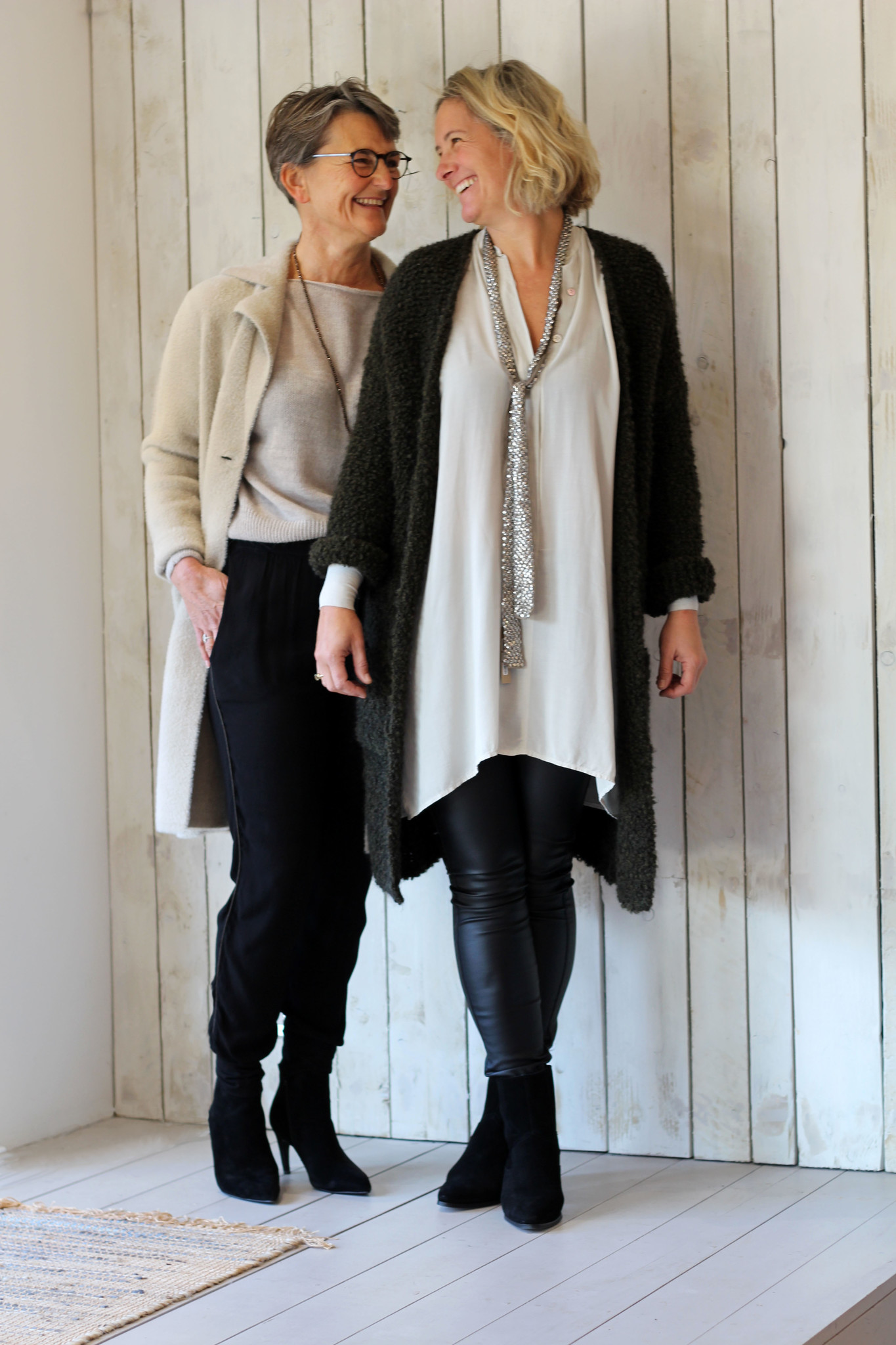 Emma: "I could see that Mel was drawn to these leather-look leggings as soon as she arrived, but wasn't sure the fitted leg would work on her. She's used to wearing shorter tops, but by adding length with this gorgeous tunic, we've softened the whole look. Its soft putty colour, fitted jersey sleeves and not-too-floaty shape mean it looks amazing on all body types, and it's the sort of go-to, staple piece that you'll come back to season after season. 
Sue wanted something to balance out her shape, which we've achieved by tucking a boxy little jumper (store exclusive) into soft joggers (French tucks are a great way to highlight or even accentuate your waist) and adding a small heel to really elongate the legs. By throwing on a single-breasted coatigan, Sue has an extra layer to play with – essential in cold weather, but easy to fling off when the mood strikes. Because it's open-fronted, we don't lose the lovely silhouette that we've created underneath. 
Wanda Joggers available in Exeter, Henley, Totnes and Truro stores.
I wanted to show how easy it is to create a dressier look by adding an easy bit of sparkle to these everyday foundation pieces. For Mel, I chose this silvery, vintage-inspired sequin neck tie, which is softer than a necklace and sits beautifully against the soft drapes of the tunic. For Sue, one of our tried-and-tested crystal necklaces in taupe (one of the gazillion colours on offer!) to catch the light and add a bit of zing."


LOOK TWO: TIMELESS CLASSICS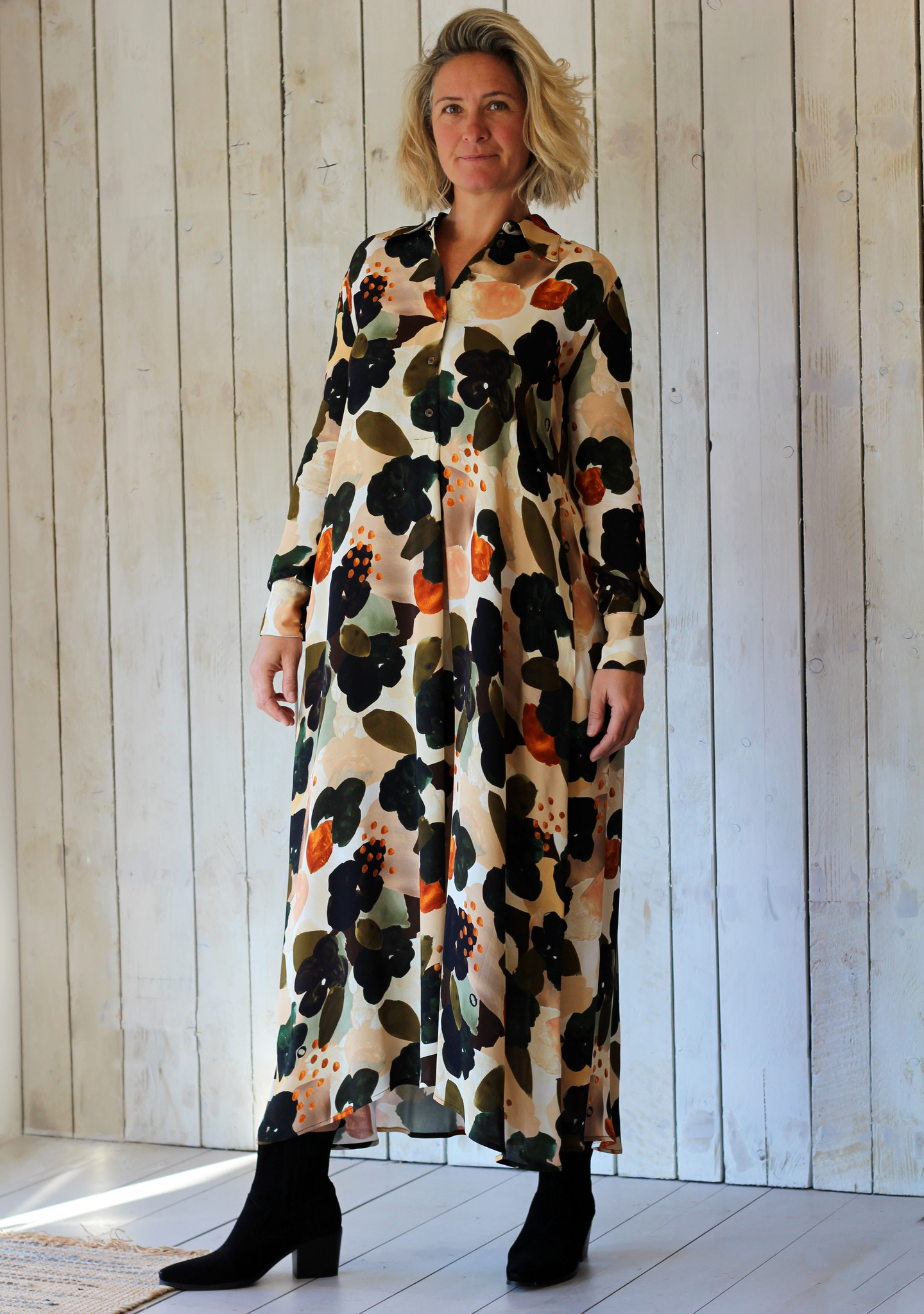 Emma:"Mel doesn't have many dresses in her wardrobe – I'd definitely say she's more of a trouser person – so I wanted to give her a sort of one-piece wonder, something that she'll wear time and again. Because the print is a little bit abstract, and the colours are pretty without being overpowering, it'll feel current and relevant at any time of year. I love this piece as much with black tights and boots as with a pair of white trainers in the summer."
Giulia Dress available in Salcombe, Totnes & Truro stores.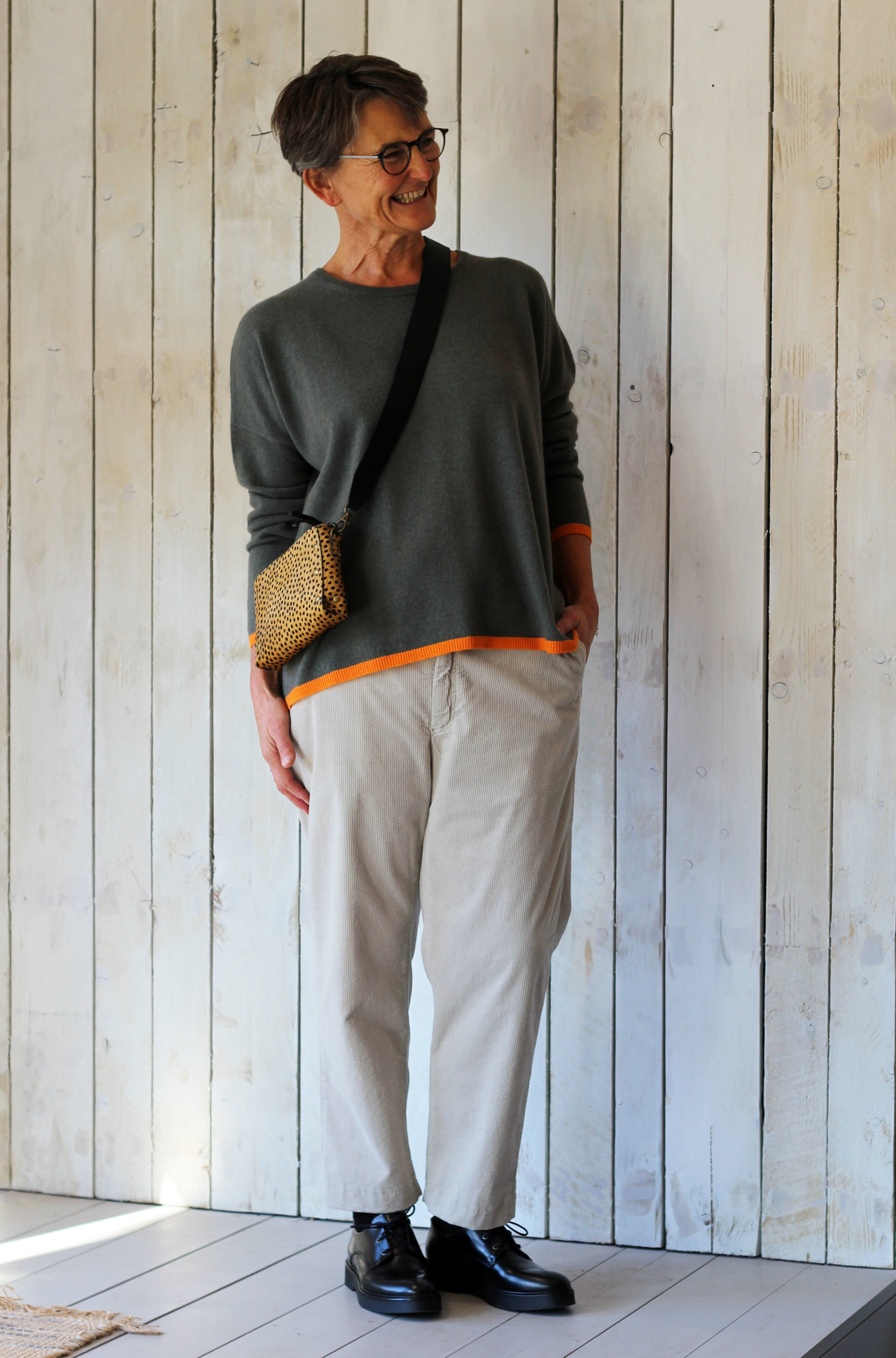 Emma: "It's really nice when a piece of cashmere offers something a bit different, as well as feeling heavenly soft and luxurious. The almost-grey khaki base of this sweater works perfectly with Sue's colouring, but it's the bright orange trim that really makes it shine; it's cosy and casual, injected with a bit of fun and personality. I've paired it with butter-soft cords and black brogues (two fail-safe styles that have really stood the test of time), while the pop of leopard-print adds pattern and intrigue. 
Caprice Bag available in Kingsbridge, Exeter and Henley stores.  
LOOK THREE: UN-DRESSY DRESSING UP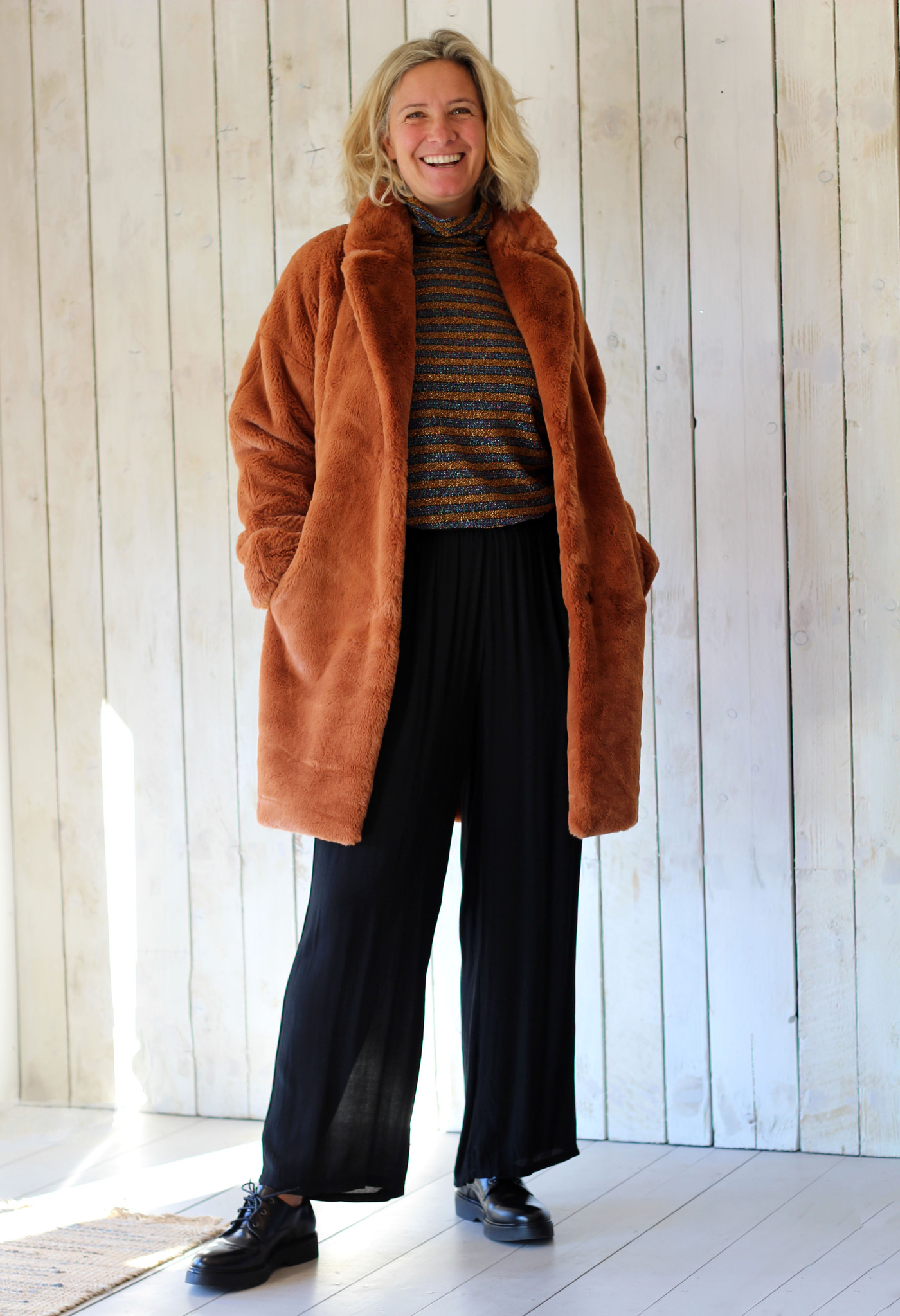 Emma: "I wanted to find something that would make Mel feel dressy but comfortable, and without any fuss. Picking out the stripes in this sparkly little roll-neck with the colour of the faux fur coat makes the whole outfit look stylish and well considered, while the slightly cropped, black crepe trousers and classic brogues pare the whole thing back. It's the kind of outfit that Mel can wear just as easily for an impromptu pub lunch as for a more formal occasion."
Tonja Metallic Top available in Exeter, Henley, Salcombe, Totnes and Truro stores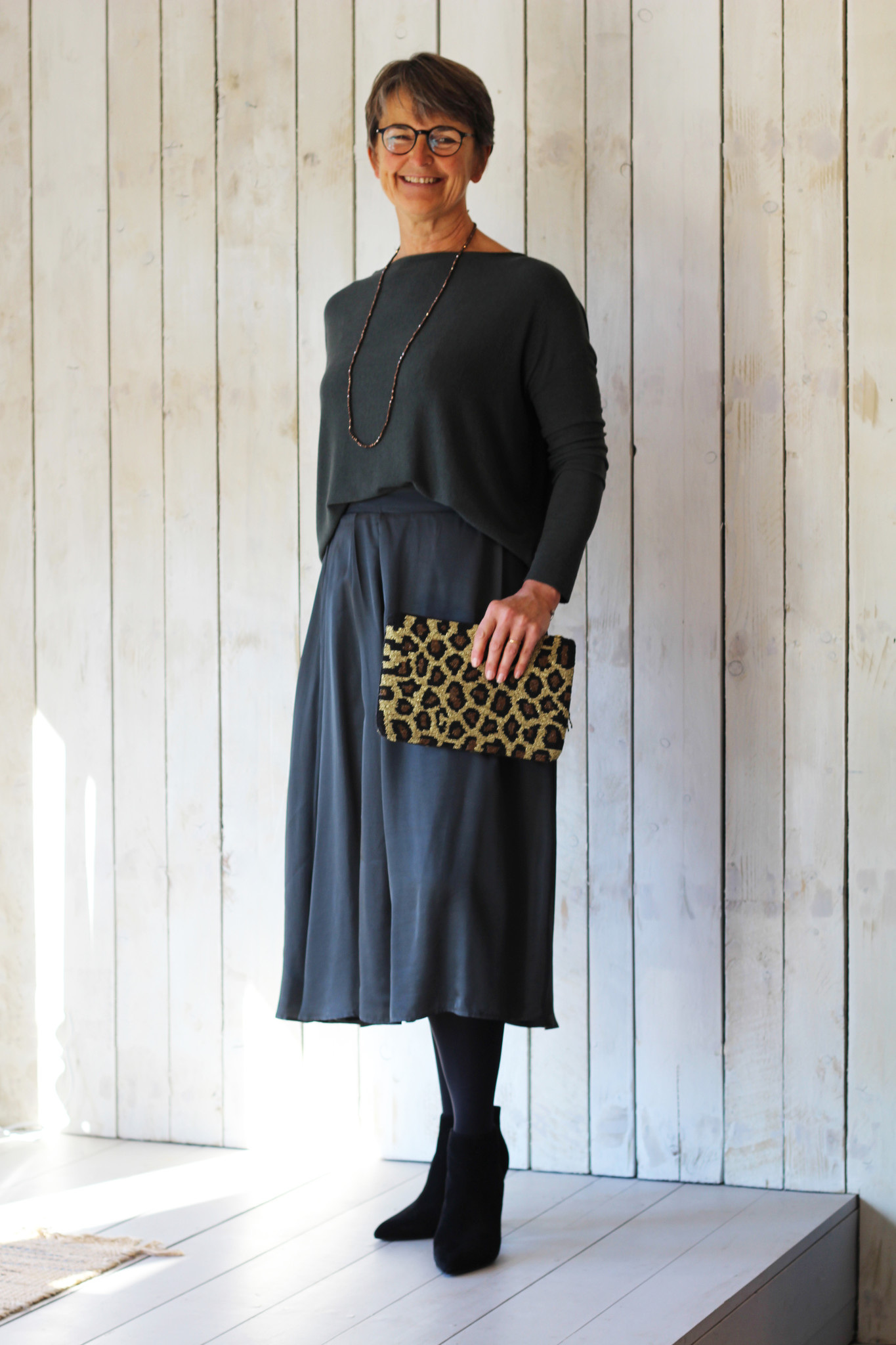 Emma: "Sue has amazing legs, and this 1950s style skirt is the perfect way to put those pins on show. It looks great with heels, but I can just as easily see her wearing it down at the beach in summer, with a white tee and flip flops. Tucking in a light top creates a gorgeous hourglass shape, and I've added some party-ready pizazz with this beaded leopard-print clutch (store exclusive). Easy peasy!"
LOOK FOUR: GO FOR GLAMOUR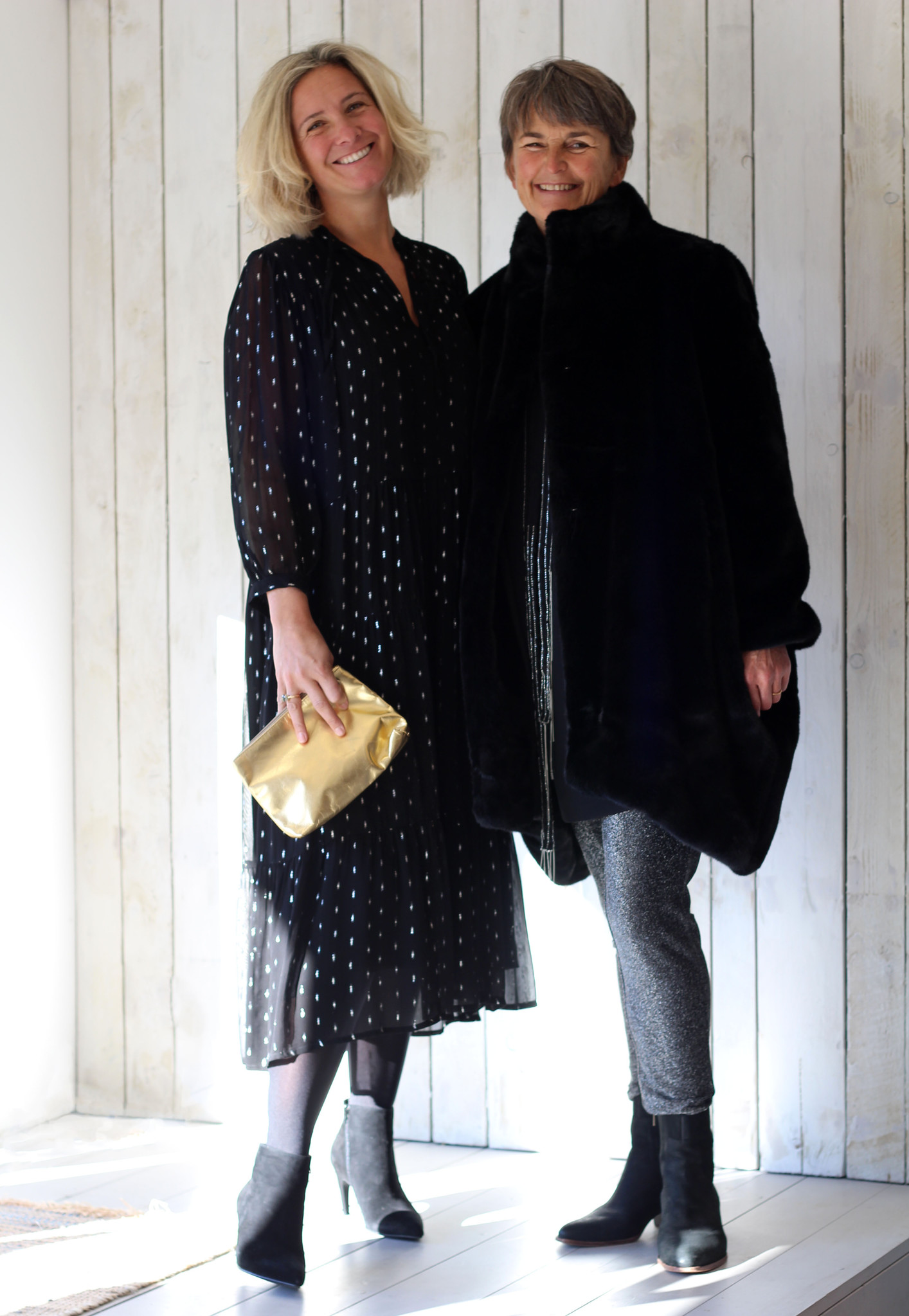 Emma: "Christmas is all about adding a bit of sparkle, and here are two shining examples of how we can do that in an easy-and-relaxed but grown-up-and-glamorous way. The metallic flecks in Mel's dress are pretty and timeless, but the tiered shape keeps it current. Pairing it with a gold clutch (store exclusive), instead of matchy-matchy silver, helps individualise the overall look and give it that 'just-flung-together' edge. Sue's wearing the faux fur coat of dreams – it's got this gorgeous bubble shape and snuggly collar, which we've paired with with some sparkly joggers and a spangly neck tie to pull the whole look together.


Looking for your own party pieces? Visit your nearest store for all sorts of inspiration and advice, or follow @busbyandfox and Emma @behind_clothed_doors on Instagram.