Now that December's here and we're officially allowed to start decking the halls, Emma's sharing her super-simple technique for creating a wild and wintry wreath from garden foliage and foraged finds.
Grab yourself a glass of sherry, pop on some festive tunes and enjoy creating something wild and wonderful...
You'll need:
MIXED GARDEN FOLIAGE
Choose things that are already dried or will dry out rather than wilt on the wreath. Hydrangeas, heather and pine or fir are great. If you're not sure, pick a few stems and leave them somewhere cool and dry for a couple of days before you get started to see how they behave. More is more – you'll be surprised how much you get through, so gather a plentiful selection. Any extras, you can pop in a vase or tuck among decorations on your mantelpiece.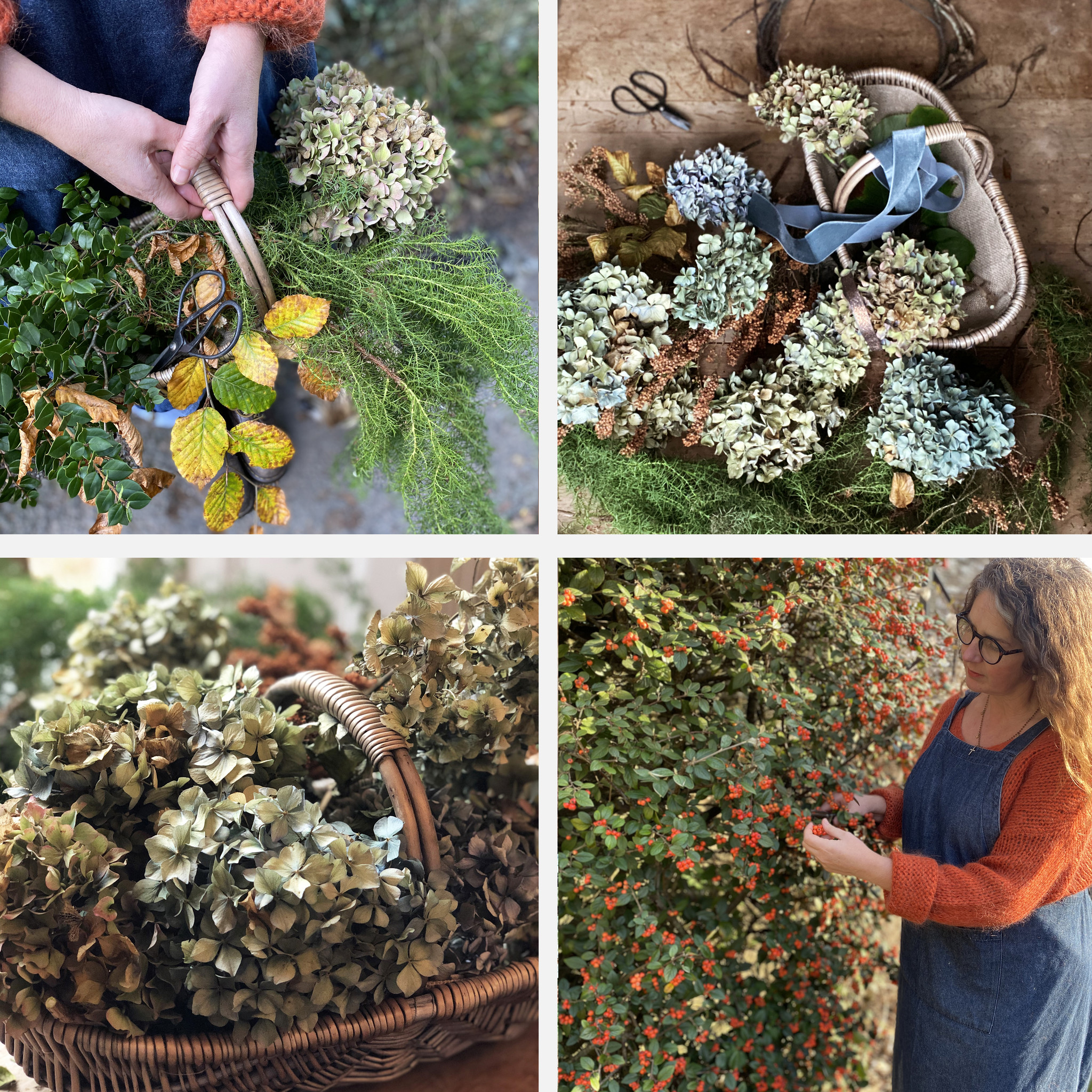 A ROUGH TWIG BASE
Make sure to collect plenty of small twigs; you'll need to tie these together with wire or string to form the base for your wreath. A diameter of around 10-12 inches is a good size for hanging on most doors. The shape really doesn't have to be perfect – you just want to create a relatively solid-feeling circle with little pockets that the first layer of foliage can be tucked or tied into. (If you'd prefer to skip this step, you can pick up a wreath base from most florists, craft shops or DIY stores at this time of year.)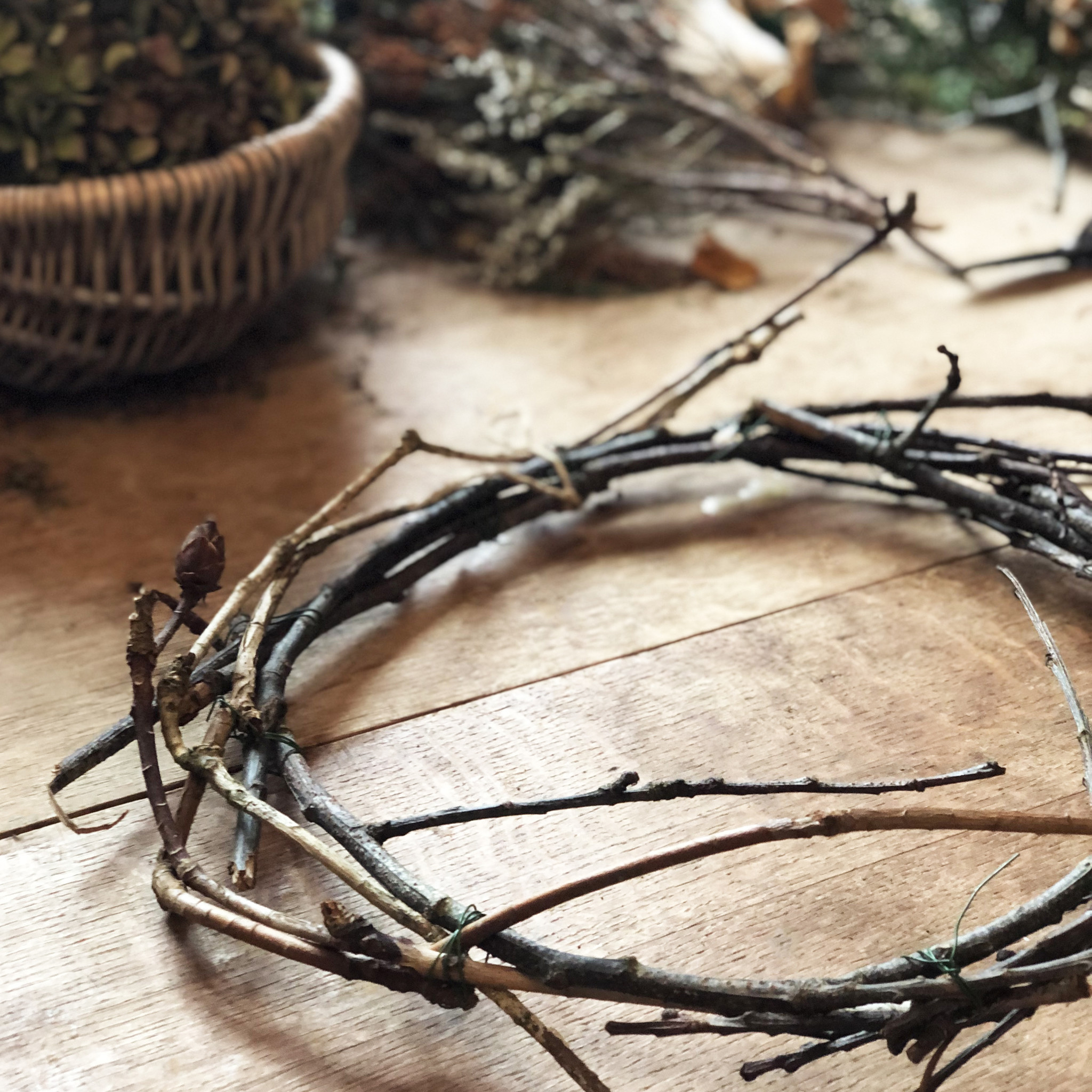 SHARP SCISSORS AND YOUR FAVOURITE RIBBON
Vintage snips, fancy secateurs or kitchen scissors – it doesn't matter what you use, so long as they're sharp enough to make light work of your foliage. For her bow, Emma chose a dusky blue velvet ribbon to pick out the colour of her hydrangeas – but you could just as well go for something thin and delicate or big, bold and super-Christmassy. It's entirely up to you. Just go with what you have in your wrapping-paper drawer or sewing box, or pick a colour that complements your garden finds.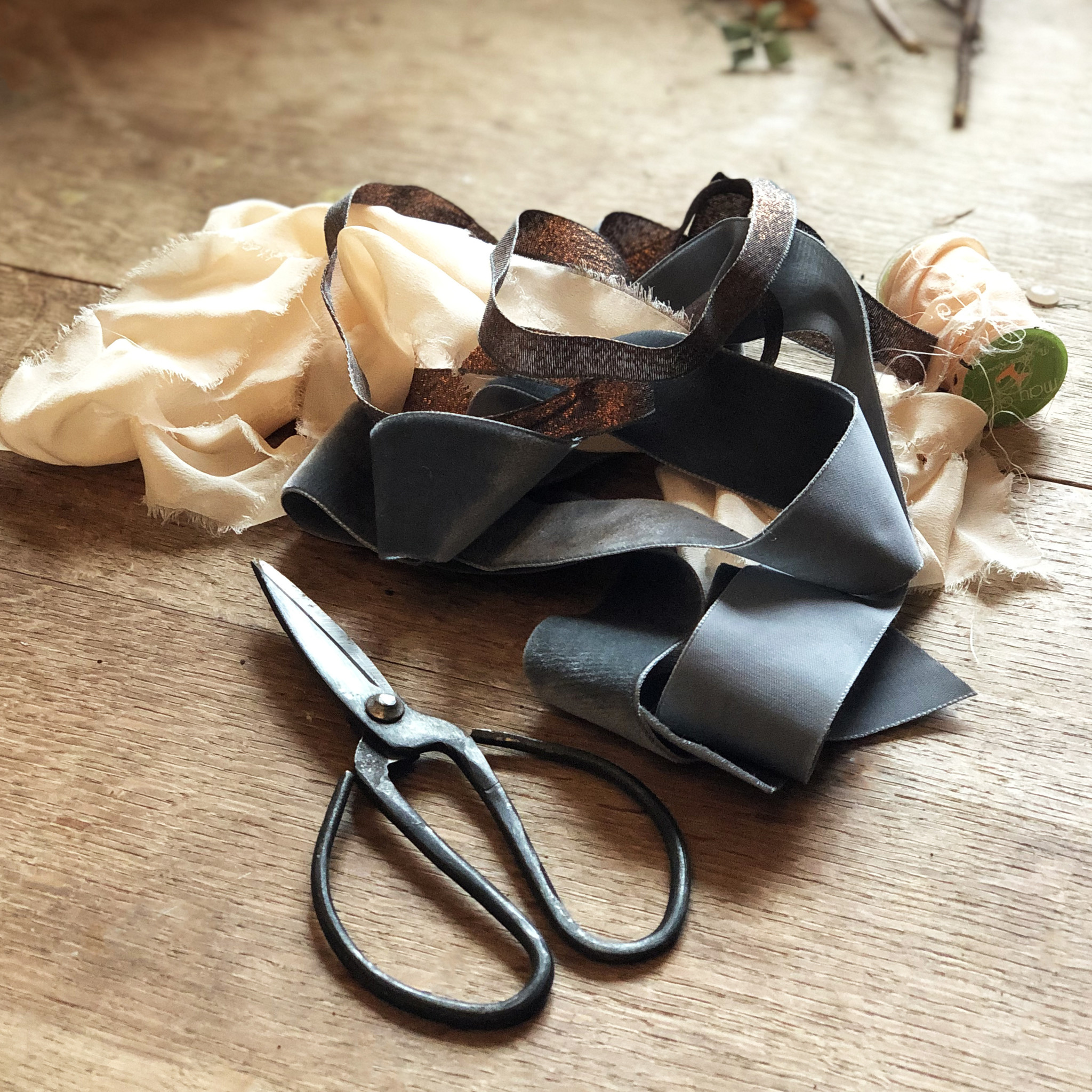 Video – How to build your wreath:
 

 

View this post on Instagram

 
Emma's top tips:
GET YOUR WIGGLE ON! When adding your base layer of foliage, you'll want to wiggle and weave the stems into your twig base to hold them firmly in place and prevent things falling out further down the line. You can always tie the stems of your foliage to the base as you go.
YOU'LL NEED A LOOP FOR HANGING – don't forget to tie a piece of string at the top of your twig base before you being adding foliage. Try to form a loop around 10cm long; you can always make it shorter later.
BOW OR NO BOW – your wreath will still look stunning, so don't worry if ribbon eludes you!
IF YOU FIND YOURSELF SHORT ON FOLIAGE, focus on building up a segment of your base instead. If you imagine your wreath as a clock face, the section from from 3pm-8pm is a good place to start. Then, just leave the rest of the base as bare twigs and neatly tie-off any visible string. The result will still be beautiful, but you'll have a slightly more rustic effect (which is a look I love).
IF YOU WANT TO ADD FAIRY LIGHTS, do this as you reach the end of the process. My favourite type is a copper wire with teeny-tiny, warm white lights to add some sparkle and make the wreath really sing as the sun goes down. Try to find a set with a small battery box that you can tuck into the back of the wreath.
IF THINGS BLOW OFF IN THE WIND, it's really easy to replace them with new garden finds. In fact, I love sneaking extra stems into mine as December draws on... even offcuts from the Christmas tree!